INTO A RAGING BLAZE (En rasande eld)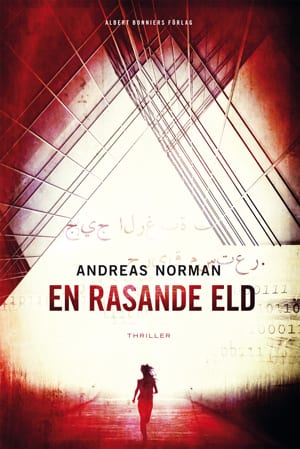 Carina Dymek is a rising star in the Swedish Foreign Ministry. A bright future as a diplomat is laid out for her. During a business trip to Brussels, she is approached by a mysterious man who insists on giving her a USB memory stick. As it turns out, the stick contains a classified report outlining a new European counter-terrorism agency. According to regulations, she passes the report on to her superiors – and is the next day suspended and kicked to the curb. Infuriated by this injustice, she decides to clear her name by finding the man who gave her the report and uncover the truth.
Bente Jensen, a senior officer at the Swedish Security Service, is in charge of investigating the case of Carina Dymek. She is immediately approached by the British MI6. They claim to have evidence that the young Swedish diplomat is acting on behalf of an islamist network. But the MI6 is far too insisting, and Bente Jensen suspects that Carina Dymek is only a pawn in a much bigger game.
Carina soon becomes aware that she is being targeted by a global organisation. Is it the British MI6? Or a terrorist network? And what role does Carina Dymek's Egyptian boyfriend Jamal play in all of this? Who is the hunter and who is being hunted?
Into A Raging Blaze is a thrilling and fast-paced fusion of Le Carré and the Bourne films, written with a strong sense of drama and style.
487 pages
Rights sold
Norway: Gyldendal
Sweden: Albert Bonniers
UK: Quercus
US: Quercus
AWARDS
Shortlisted for the CWA International Dagger Award
REVIEWS
"Norman's understanding of the dark, destructive side of surveillance is second to none … convincing and addictive."
The Guardian/UK
"A modern take on the spy thriller … A Le Carré-esque yarn that's rooted in verisimilitude."
Independent/UK
"An excellent and very up-to-the-minute novel … Is this how others see us now? If so, alas!"
Literary Review/UK
"Solid description of the insides of the corridors of power"
Independent, Best Noir Newcomers/UK
"Gripping and unnervingly believable, it's a fictionalised exposé of Anglo-American spying"
Choice/UK
Regardless of genre, Mats Strandberg has been praised for his sharp eye for character and dialogue. His characters are created with a large portion of psychological insight. They are never purely "good" or "evil", but always relatable and believable. His novels are carefully plotted, the stories weaved with precision and confidence in the universe he has created.