THE MONSTER IN THE NIGHT (Monstret i natten)
Mats Strandberg
Illustrations by Sofia Falkenhem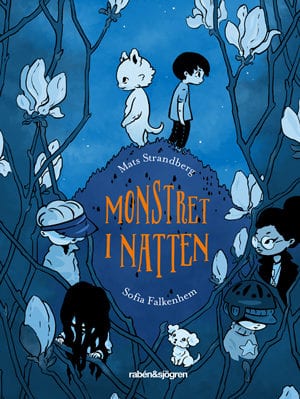 On Frank's ninth birthday, something happens that will change his life forever. His neighbor Alice's dog Uffe is so excited when Frank treats him to a piece of cake, that he accidently bites Frank's finger. Shortly after, Frank starts having mysterious dreams. In his dreams, he has four legs, and fur, and a wagging tail. All he wants is for someone to pet him, scratch him behind his ears and cuddle with him. But why are everybody so scared of him?
Meanwhile, a rumor spreads through town. People are saying that there is a monster living in the forest, a bloodthirsty beast who attacks innocent people. Could it possibly be that Frank's dreams are not dreams?
Exciting, fun and just the right level of scary, with cliffhangers which make you want to read more. The Monster in the Night is a story about monsters and humans, about not fitting in, and about finding your pack.
Mats Strandberg is one of the authors to the world success The Engelsfors Trilogy. The Monster in the Night is his first own children's book. The book is fantastically illustrated by Sofia Falkenhem.
109 pages
Rights sold
Denmark: Alvilda
Estonia: Tänapäev
The Faroe Islands: Bókadeildin Føroya Læraraferlags
Finland: Viisas Elämä
Israel: Tal May/Yediot Aharonot Books
Norway: Omnipax
Poland: Czarna Owieczka
Sweden: Rabén & Sjögren
Mats and Sofia tell us more about Frank, his friends and Yrred (in Swedish)
https://youtu.be/RxI43rakyMw
Reviews
"Extraordinary sweet warewolf ain this children's book for the yonger reader. Easy to read and easy to like."
Bokmorten, blog /NO
"My five year old has finally cultivated a passion for books that do not end the same evening as you open them. This is a win for both of us. One book we lost ourselves in is Mats Strandberg's The Monster in the Night."
Dagens Nyheter / SWE
"A both exciting and sad story about not fitting in and to discover a different way out of loneliness."
Aftonbladet / SWE
"I hope many children find this book!
Bokfreak, blog / SWE
"The Monster in the Night is a strong and promising start in this chapter book for the younger readers, series about Frank the Monster.
Catchy, simple and unsentimental does Mats Strandberg write about alienation, the desire to find your pack and the human fear of the unknown. Between the lines one can also find in the book's significance as a comfort as well as an exciting portal into other worlds.
When the paw prints fade off along the last few pages, it immediately feels rather empty, even for an adult reviewer. This book evokes a desire to read further, and it is a good rating."
Folkbladet
"When we were done reading The Monster in the Night my boys immediately wanted to know when parts 2 and 3 are out. I tweeted the author who let me know they are out in August/September 2016 and January 2017. We look forward to that, because the 108 pages are just as imaginative as I want literature for the young ones to be."
Jönköpingsposten
"Through a clever and extremely charming turn of the classic werewolf story, the author has managed to create a nice story. The theme is how someone who does not feel at home in the ordinary world can find friends."
Boktjuven / SWE
"The Monster in the Night sure want you to read more."
Katrineholmskuriren / SWE
"He has found the right level. It is not too childish, not too simplistic. I look forward to the rest of the series. Sofia Falkenhem's wonderful illustrations makes it less scary."
Alba / SWE
"You cannot expect anything but the best and the most initiated by Strandberg – he knows his horror and fantasy and ancient tales. The Monster in the Night, in the "cozy-horror" genre is so much more than cozy, but the illustrations reinforce the coziness, the dog shaped Frank is so amazingly fluffy and cute with a wagging tail that it is difficult to imagine that people will be scared and think he's a monster. But that is how it often is: things that are different trigger fear, they don't even need to look dangerous.
The references to horror films, there is a magical library and even a shape shifting librarian who can transform into an owl. What is there not to like about this book?
This is an absolutely wonderful fun and beautiful cozy-horror, a real book of dreams!"
Kulturvinden, blog / SWE
"You don't have to be horror geek to love this book. It is enough to enjoy reading."
Litteraturmagazinet / SWE
"The monsters are our friends."
Ystads Allehanda / SWE
"I love Mats Strandberg for having written such a wonderful book. The Monster in the Night is a true jack pot with my 7 and 10 year old. And here are some of the reasons:
* They recognize themselves in the character.
* It's a page turner, you do not want to stop.
* For letting the book loving character, a little odd in other people's opinion, be the center of attention and to be something nice, with a big heart.
* It brings attention to the fear of the unknown. It is heartbreaking how no one understands that all the monster wants, is to be scratched on his belly. This is what is happening in Sweden today. The fear of the unknown make people do the strangest things.
* The wonderful illustrations. It is beautiful how Sofia Falkenhem interprets the text and how the how the blue color reflects the atmosphere of the book.
* We adults get that little extra with all the references to things. Like that the main character is Frank Steen (Frankenstein*s monster). I love and admire when an author can write a book for two target groups. And I say again what I have said before: they are the absolutely most skilled authors."
Boktokig, blog / SWE
"It begins as a modernized Edgar Allan Poe's short story: "I was a monster on my ninth birthday. Though I did not understand it then." Mats Strandberg knows how to quickly get the readers interest with a well formulated bait, and then quietly go back home and let the story take its chronological time. The story with its cinematic dramaturgy, is self-reliant, and when Frank is allowed to step out of his cleverness costume and be angry and unreasonable it becomes interesting. In the next book, I am hoping for a more disobedient monster."
Svenska Dagbladet / SWE
"The Monster in the Night is about monster and darkness, but most of all it is about alienation and about not fitting into the template everybody else want to squeeze you into. Both as a boy and as a monster, Frank doesn't feel "normal", and this is a feeling Strandberg manages to portray so very well. The illustrations by Sofia Falkenhem are wonderful and perfect for this story. Which doesn't always happen in books for 6-9 year old. But they fit like a glove, and it becomes obvious how tight text and illustration are."
Ugglans bokhylla, blog / SWE
"The Monster in the Night is a well written and multilayered chapter book about accepting who you are, but also about how xenophobia arises in the fear of the unknown and different. The book is meritorious illustrated by Sofia Falkenhem's evocative images. Her illustrations tone down the nasty and point instead to the fantastic. The story contains a lot of humor and ends with a cliffhanger, which opens for a sequel. The Monster in the Night is an excellent book for reading aloud and reading for yourself."
BTJ / SWE