AN INVISIBLE (En osynlig)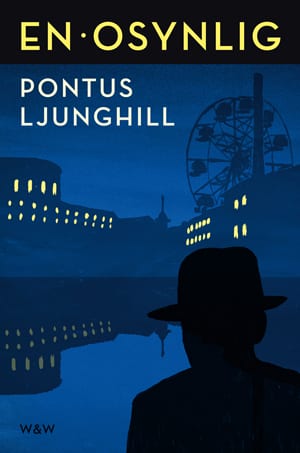 We are in Stockholm 1928. An eight year old girl, Ingrid Bengtsson is found dead at the closed down shipyard at the idyllic island Djurgården in Stockholm. The murder raises a lot of interest in the press and the daily reports about the investigation is on everybody's lips. The young and promising inspector John Stierna is put in charge of the murder chase.
It becomes a hunt for a murderer who has left almost no traces. Stierna gets personally involved and the price he will pay is very high. I an emotional meeting with the mother he promises the grieving woman that they will catch her daughter's killer. This is the most important promise he has ever made. Will he be able to keep it?
Visby, Gotland 1953. Stierna has retired and has withdrawn to a hotel to summarize his career and reflect over his life. The murder of the little girl is forever burned into his consciousness, and when a journalist looks him up to do an article about the old case and what actually happened that autumn of 1928, everything is rolled up again.
An Invisible is both a suspense novel and a moving depiction of Stockholm. It's about how a case can be personal and eat its way in to never let go. But it's also about a city that looked very different just half a century ago, before the old quarters were demolished and the modern city swept away the old districts with their unique and atmospheric aura. An Invisible is the first book in a series of criminal novels set in Stockholm in the first half of the twenties century.
377 pages
Rights
Denmark: Gyldendal
Germany: Heyne
Italy: Guanda, Mauri Spagnol
The Netherlands: Luitingh Sijthoff
Norway: Pantagruel
Sweden: Wahlström & Widstrand
REVIEWS
"If you, for your debut, dares to build a plot around a failing police inspector, you have guts. If you do it convincingly, you have talent. It's hard to express the human condition without clichés. Ljunghill can and he writes for the empathetic reader."
Scriptor-boekrecensies / BE
"Pontus Ljunghill's debut is brilliant: deeply original and stylistically elegant."
Vi läser / SWE
"An endlessly beautiful debut thriller set in two times. The retired police officer Johan Stierna is in Visby in 1953 and is interviewed by a journalist about the case that changed his life: the murder of an eight-year girl in Stockholm 1928th. Ljunghill has impressive skills both when he tells the story of historical Stockholm, contemporary police investigation and Stiernas destiny."
Dagens Nyheter / SWE
"This is a 'classic' detective novel. But when I say 'classic', what I really mean is 'classy'!"
Gefle Dagblad / SWE
"An Invisible is Pontus Ljunghill's debut novel, and it's a debut that is outstanding. It's a suspenseful novel, a thriller if you like, which is also a vibrant and flavorful deption of the 1920-ies Stockholm. Could it be that we already have this year's best Swedish crime novel? There is actually some evidence of that."
Borås Tidning / SWE
"Pontus Ljunghill has written an unusually readable suspense novel with a well-developed sense of phycology and a nice touch when he depicts a vanished Stockholm. And he does the later without falling in the traps of embarrassing nostalgia. It is much more literary than most other detective stories coming out of our country. This is a well written and reflective novel."
Helsingborgs Dagblad / SWE
"I must say, it's pleasant to hold a brilliant debut thriller in my hand, An Invisible, written by forensic journalist Pontus Ljunghill. He can really write!"
Svenska Dagbladet / SWE
"An Invisible is a very welcome addition to the often watered down detective genre and it would be nice to get even closer acquainted with Johan Stierna and his world in more books to come."
Södermanlands Nyheter / SWE
"One is happy when new a star appears on the competent thriller skyline. Pontus Ljunghill is such a star. He has written a fascinating story that extends between the years of 1928 and 1953. It's just a great Stockholm tale. At the moment, it seems more and more crime novels depict the past. I like that, and this one is one of the most successful in doing so."
DAST Magazine / SWE
"Pontus Ljunghill is a good writer. His pace is slow, but it never gets dull. Forensic technique of the 1920s differs a great deal from today, although the basics are the same. The time markers and the events in the community is presented in a most informative way. This is different and fascinating and a well written detective story which definitely looks promising for the future."
Dagbladet / SWE