HEIRS TO EMPIRE 3 – THE TOMB PLANET (IMPERIETS ARVINGAR 3 – GRAVPLANETEN)
Oskar Källner & Karl Johnsson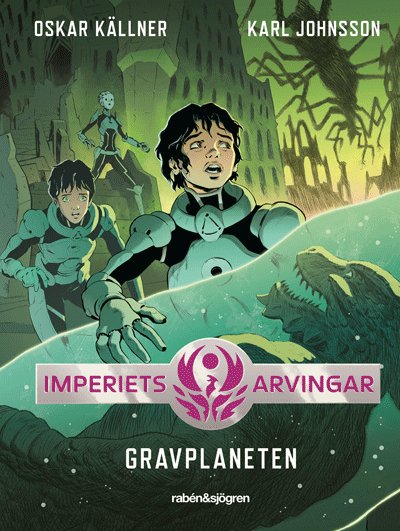 Alice and Elias' new home, a spaceship called The Eye, has crashed on the Empire's old burial planet, Umbezra.
It is a place where only the dead roam. At least, that is what the crew of The Eye believe until they receive a distress signal from Alice and Elias' mother. Astonishingly, it seems that she is also on Umbezra. To reach her, and while being hunted by their enemies, the crew descend into the ancient catacombs, where monstrous beings and terrifying discoveries await …
The Tomb Planet is the third book in the sci-fi series Heirs to Empire. An epic space-saga containing both colorful miracles and obscure mysteries, fast paced adventures and scary encounters with the unknown. The story about Alice and Elias' journey through space is simply grand.
Rights
Denmark: Gyldendal
Norway: Gyldendal
Sweden: Rabén & Sjögren
REVIEWS
"The classic theme of children in an unknown world who gets to discover new sides and strengths in themselves is handled with great empathy. The story is even more elevated by reflections on cooperation, family, power and oppression. The fascination with other people's abilities and the expressions of equality makes both the illustrations and text feel based in an urgent here and now. On top of that it is a breathtakingly exciting reading adventure, well written and easy to read!"
Jönköpings-Posten / SWE
"Karl Johnsson's colorful but serious illustrations are detailed and enhance the aptmosphere. The author Oskar Källner creates a live space universe with a long history and many different planets and cultures. […] Themes that can be read from this book are the sense of belonging and family relationships, the importance of struggling for what you believe in and against injustice, and also that working together is possible, no matter how different you are. The Tomb Planet is a thrilling, dark, and well constructed book. Overall rating: 4"
BTJ / SWE
"This is among the best and most good-looking ever produced in Swedish science fiction. The best of two galaxies; Amazing story (Källner) and amazing illustrations (Johnsson) – a duo as good as Han Solo and Chewbacca (don't ask me who's who). Mighty universe building. Works for both the older and the younger."
Barrikaden / SWE
"Text and illustrations blend together into an incredibly nice entirety in this series that just keeps getting better and better. […] The Tomb Planet is obviously receiving the highest top-ranking from me. There is fast-paced escapism, charged thrill, mystery, fantasy, warmth, and heart in a way that I just love! Powerful reads call for powerful words. They really do. These are incredibly easy-read books where terrific suspense and intense drama is combined with a friendly touch that makes you feel good, and I really hope this will reach a lot of young readers. And don't stop at age 12, anyone older can for sure appreciate this beautiful sci-fi-series as well. Join the adventure, you too!"
Bokhyllan, blog / SWE
"Both my son and I loved the two first books, but after reading this part it is clear that the third part is by far the best one.  […] The book was so good we couldn't sop reading, 12 hours after we had started reading, we finished the 240 pages long book. […] Such an outstanding book! The Tomb Planet is one of the best books this year and an obligatory purchase for every school library, according to us."
Barnboksfamiljen, blog / SWE