NADIA (NADIA)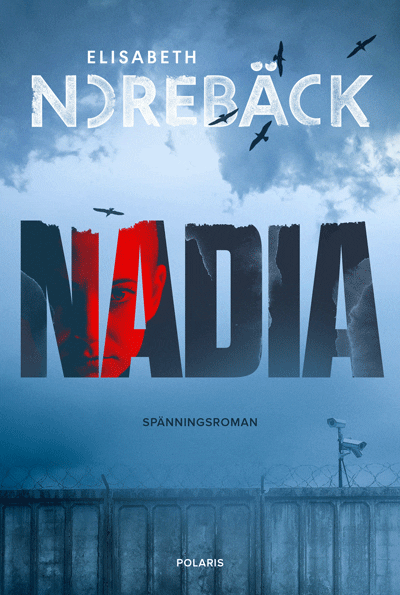 Linda Andersson had it all. As a child she often performed with her mother, the immensely popular singer Kathy, and became known as the Sunshine Girl. Later she married Simon, also a famous artist. But when Kathy suffered a fatal illness that required all of Linda's attention, Simon's infidelity was also revealed.
Now Linda is serving a life sentence at the most dangerous women's prison in Sweden for the murder of her husband. No one believes she is innocent, not even her own sister. To survive, Linda is forced to forget her past life. She has to stop dwelling on what really happened.
But then something happens that makes her question everything about that night when her life was shattered. The night she woke up, surrounded by blood. When the police shouted at her to come out with her hands over her head.
She was the Sunshine Girl. Now she is the Monster.
Nadia is a psychological thriller about obsession, double loyalties, and about crossing the final line.
285 pages
Rights
Brazil: Verus
Denmark: Politiken
Czech Republic: Knihy Dobrovský/Omega
Finland: Like
Germany: Heyne
Greece: Dioptra
Italy: Editrice Nord
Japan: Hayakawa
Latvia: Latvijas Mediji
The Netherlands: Prometheus
Poland: Zysk
Romania: Editura Trei
Russia: AST
Sweden: Polaris
Turkey: Penguen Kitap
REVIEWS
"A compact, skillfully constructed story […] Above all is the depiction of the prison that is so intense it is hard to beat, and it comes alive through details like the clothes, the shampoo, the soul-destroying labor. […] Nadia is a thriller worth reading, written by a talented author."
Dagens Nyheter / SWE
"As a reader, you are immediately drawn in: there's violence, question marks, and thrill from the very first page. […] Nadia is sometimes reminiscent of Malin Persson Giolito's novel Quicksand. Through flashbacks mixed with present time in custody, trial, and prison, we are receiving the story piece by piece. The author Elisabeth Norebäck succeeds with what is promised – a psychological thriller. […] the ending presents an unexpected twist."
Aftonbladet / SWE
"Norebäck's novel Nadia starts inside prison. We get a claustrophobic insight of the life as an intern. The violence between the prisoners, the hierarchy and tensions, the inmates often unpredictable behavior, the boredome, the routines that follows the exact same patterns, day after day after day … This part of Nadia is fascinating in its close descriptions of Linda's life. Elisabeth Norebäck has succeed to get under the skin of her main character. It's not an uplifting read. But powerful and with a creeping discomfort. […] Nadia is definitely a suspense novel worth reading."
Ystads Allehanda / SWE
"I really appreciated her first book Tell Me You're Mine for its psychological credibility and for the intense dramatics. The tension is as high in this book, without having it feature a lot of action scenes, for that matter. The author is skillful at building a creeping atmosphere and keeping it […] this is very read-worthy. The intrigue-idea of placing a large part of the story inside of a prison is both original and brilliantly executed."
Nisse Scherman, DAST Magazine / SWE
"If you like psychological thrillers – don't miss Nadia by Elisabeth Norebäck. This is a dizzyingly dense story with a tickling content that makes a strong impression and evokes all kinds of emotions. The twist and resolution towards the end is totally unexpected and a real slap in the face. […] I like how the background develops, and that we get to follow Linda's thoughts, reflections and development. It is a strong and emotional depiction of sisterhood and childhood. I really like Elisabeth Norebäck's cinematic way of writing and storytelling. This is her second novel, her debut is called Tell Me You're Mine. I highly recommend both books."
Agneta Norrgård, blog / SWE
"If there was a Richter magnitude scale for thrillers, this would have been at least a nine. And in the unlikely event that you could translate my respiratory rate to wind speed, it would be a good idea to hoist the storm flag. It sparkles, I molt, and the pages etch me stuck."
Vängåvans Bok & Papper / SWE
"This is a page turner like no other! And I think Norebäck is a new thriller favorite among Swedish thriller writers. I couldn't put away this book once I started, from the first to the last page. […] I will definately be reading more books by Elisabeth Norebäck – because this was truly thrilling, unpredictable, and great!"
Jenlovebooks, blog / SWE
"Nadia is a skillfully built suspense novel, with a nerve and an atmosphere that slowly grow closer and closer. What is happening? In whom should I trust? Where lies the truth? […] You are surprised by the story, as well as by the number of pages, only 285. It feels like a significantly more extensive novel. But that is a sign of great authorship, Norebäck has managed the pages very well."
Ihyllan.se, blog / SWE
"Nadia was well worth the wait. […] It is a skillfully built book with a creeping discomfort where everything that seems clear successively dissolves into uncertain fogs. Norebäck stays faithful to her successful debut as wo what a good psychological thriller should be like, but this time she has cut the volume, and the book only benefits from fewer pages. […] I wonder about the title of the book for a long time, and I will have to wait over 200 pages before I get an answer. And then 70 more before I get a completely different and very unexpected answer. An unusually elegant resolution. The book being really well-written, too, contributes strongly to the pleasure of a couple of hours of great suspense reading."
Kapprakt.se, blog / SWE
"I have already read one of this years' best books. Nadia by Elisabeth Norebäck was incredibly thrilling from the first to the last page. A really edgy thriller!"
Josefinlindens, blog / SWE
"A psychological thriller I highly recommend"
Cicciandbooks, blog / SWE
"I really enjoyed it! Especially the depiction of life in prison, I wouldn't have missed anything even if that was the only premise of the book. But the thriller part and its resolution were of course incredibly exciting, too, and actually really unexpected."
Feelbadbibliotekarien, blog / SWE
"A nerve-wracking novel skillfully built as to by the end intensify in an almost unbearable thrill. Furthermore, an ending I did not see coming."
Miasbok, blog / SWE