SURFACE (FLODEN)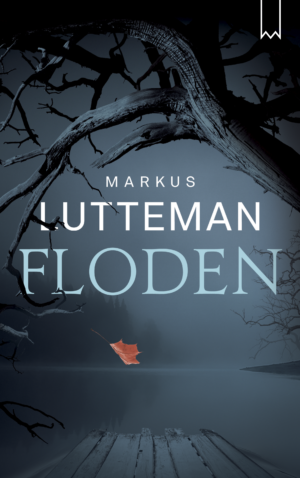 Into the unknown. Surface is an existential page turner about a river voyage that changes everything.
In an instant life has been turned upside down for accountant Jonathan Berg. He was supposed to be at home right now, sitting on the living room floor and building Lego creations with his five-year-old son.
But he wasn't welcome there. Not after what has happened. Instead he is on a raft with three strangers, slowly drifting into unknown territory on a dark river.
It is so dark here. So quiet.
Yet he feels there is something moving in the woods on the other shore. Something that has to do with a past that he has long tried to erase from his memory.
Surface is an intense and uncanny novel about fatherhood and the fear of not being able to escape one's destiny. It is a novel about unhealed wounds and about the search for answers both inside and outside ourselves. With strong thrill elements and links to the classics in literature, Markus Lutteman raises questions that make us reflect on everything from living our modern lives to what happens after death.
220 pages
REVIEWS
"Wow. I'm speechless. What a roller-coaster ride of a read. My hands are sweating, my heart is pounding and tears are burning behind my eyelids."
Agneta Norrgård, SVT & SR / SWE
"It's a dark, scary and somewhat dangerous story about the search for answers. It's as much an external as an inner journey. I thought a bit about Odyssey when I read this novel."
Go'kväll, SVT / SWE
"If I get to throw out a comparison, it's a bit like the movie "Deliverance" would be mixed with the books "Heart of the Darkness" and "The Road". Markus Lutteman has once again written a thoughtful and good book that I give 4 out of 5. This novel is dark and frightening, but it makes me think. Read it!"
The Literature Magazine / SWE
"Surface is a suggestive suspense novel with clear philosophical elements and moral dilemmas. The story is dealth with thoroughly and the language effectively contributes to the uneasy atmosphere. A creepy feeling of an upcoming catastrophe is cleverly crafted and makes the book hard to put away.
Kajsa Bellander, BTJ / SWE
"The story can almost be considered an allegory of the loneliness and vulnerability of modern man. Simultaniously it is a developing novel in the form of a thriller. It is an interesting journey Markus Lutteman takes on in his new book / … / He tries new exciting writing methods that are very promising and yet takes an advantage of his knowledge as a thriller writer. Good it is!"
Nerikes Allehanda / SWE
"I am impressed by how Lutteman manages to handle deeply human issues in a book that will surely become one of the finest horror novels of the year. He finds a right original path beyond the most obvious and amazes me more than once when the storm invades a river without a name, and when he have the four men fight for their souls in more than one way."
Boktugg / SWE
"Well-written, easy-to-read, exciting, mysterious, gripping. If you want to read a slightly different book, which is very, very good, then read Surface by Markus Lutteman. I give it 4,5 out of 5."
Bim's blog / SWE
"Suggestive, exciting and fascinating."
Jenny's Book List / SWE
"Surface is a book entirely in my taste. Dark, suggestive and unpleasant in many ways. It is a book to stretch read and think about. It would also be a perfect novel for a book book! There are many topics to talk about."
Vargnatts bookshelf / SWE
"It is tricky to categorize this book inte a certain genre. Subtle horror, captivating philosophy or – as the author himself describes it – an existential page turner. All these descriptions come close. Either way, it's a reading experience that stands out."
Tobias Söderlund, author / SWE
"Lutteman makes you think deeper about existential issues and you have to look inwards, towards yourself and your experiences. Even I make a trip, on an inner river and my heart gets a lesson in practical philosophy."
Epiloger.blog / SWE