TELL ME YOU'RE MINE (SÄG ATT DU ÄR MIN)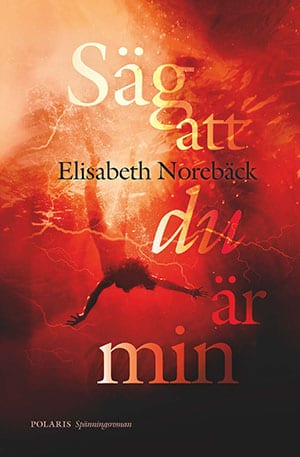 If your one-year old child disappeared, would you recognize her twenty years later?
Tell Me You're Mine deals with two of our greatest fears; losing your child and losing your mind.
Three women, three stories, three truths.
Many years ago, Stella's daughter disappeared from the beach during a holiday trip. After an intensive search, the police investigation was dropped. It was assumed that the girl had been carried away by the currents and drowned. She was declared dead.
Now Stella has moved on with her life. She is a psychotherapist, married to Henrik and together they have a son, Milo.
When a young woman arrives at her clinic, Stella suffers a severe panic attack. She is convinced that the woman is her dead daughter, Alice.
The meeting means the beginning of a dangerous journey through the past. Stella must at all costs find out what actually happened to Alice. She becomes obsessed with her new patient, acts increasingly desperate and claims that someone wants to kill her.
But when no one believes her, Stella begins to doubt her own mental state; is she paranoid or dare she trust her instinct?
Tell Me You're Mine is a psychological thriller that deals with the painful loss of a child. It is a gripping tale about grief and guilt, insanity and violent obsession.
420 pages
Rights
Argentina: Planeta
Brazil: Verus
Bulgaria: ERA Publishers
Denmark: Politiken
Chile: Planeta
China: Beijing White Horse Time (Simplified Chinese)
Czech Republic: Knihy Dobrovský/Omega
Estonia: Pegasus
Finland: Like
France: Bragelonne
Germany: Heyne
Greece: Dioptra
Hungary: Animus
Iceland: Tindur
Israel: Dani books
Italy: Editrice Nord
Japan: Hayakawa
Korea: Golden Time
Latvia: Latvijas Mediji
Lithuania: Obuolys
Mexico: Planeta
The Netherlands: Prometheus
Norway: Aschehoug
Poland: Zysk
Portugal: Porto
Romania: Editura Trei
Russia: AST
Serbia:  Vulkan
Spain: Planeta
Sweden: Polaris
Taiwan: PCUSER/Cite Publishing Group
Turkey: Penguen Kitap
UK: Allison & Busby
USA: G.P. Putnam's Sons /Penguin RH (WER)
REVIEWS
"Intense, eerie and infectious (…) Norebäck can really build up a story."
Adresseavisen / NO
"What starts as a psychological novel, imperceptibly turns into an icy thriller."
Zin / NL
"An extremely intriguing story about an obsessive mother's love, mourning and guilt."
Nederlands Dagblad / NL
"With Tell me you're mine Elisabeth Norebäck delivers a magnificent first psychological thriller, in which the perspective constantly switches between three women, Stella, Isabella and a certain Kerstin."
Volkskrant / NL
"Spine-chilling debut."
Feeling / NL
"Mourning, guilt and obsession are the themes of the brilliantly constructed thriller Tell me you're mine by Elisabeth Norebäck."
Margriet / NL
"Norebäck's debut is a tremendous psychological thriller that shows how the loss of your child drives you to despair. […] Each chapter is written from the perspective of [one of the three] women and makes you share their psychological suffering. Since they only reveal their own beliefs, you can never be sure that things are being portrayed objectively."
Noordhollands Dagblad / NL
"Emotional and tempting thriller."
Me Naiset / FI
"I can't wait to read her next book. This thriller is unforgettable."
Epari / FI
"Makes you hold your breath until the last page."
Viva / FI
"Tell Me You're Mine is one of those books that is thrilling from the start and that keeps you hooked all way through. It is one of those books you do not want to put down, where you count down the hours until you are home and can continue reading. It is one of those books that I feel will stay with me for a long time. If you're into psychological thrillers, my only recommendation is, read it."
Sidsesbogreol.dk, 5 stars / DK
"Debutant Elisabeth Norebäck already writes better prose than most."
Dagens Nyheter / SWE
♥︎♥︎♥︎♥︎♥︎♥︎
"A real thriller, that sends sparks between the pages."
Politiken / DK
"You necessarily want to know how the story will unfold. And that is a characteristic of a successful thriller."
De Telegraaf / NL
★★★★★★
"The author manages to keep the reader all the way out on the edge of their seat – especially the end leaves the reader's heart raw with emotion and with tears running down …"
Bogfidusen / DK
"The story is cleverly constructed, told from three women's perspectives and constantly exciting with several unexpected twists."
Dalarnas Tidningar / SWE
"Well written, well-styled and with a tension that lasts to the last line."
Kommunalarbetaren / SWE
"A most convincing debut book. A psychological thriller of format."
Krimifan / DK
"What a fantastic debut! I was hooked already from the first page … The book is impossible to put down, a true page-turner! One of the best books I read this year!"
Villivonkansbooks, bookblog / SWE
"Be prepared not to be able to put this book down."
Blekinge Läns Tidning / SWE
"Tell Me You're Mine is fast-paced and accessible. The book is intense and the tempo is high all the way through."
Litteratur Magazinet / SWE
"A breathtaking tale. Elisabeth Norebäck's story gets under your skin. The book is impossible to put down, and I read it from beginning to the end in one day."
Just här, just nu, book blog / SWE
"A remarkable book that leaves a big impression even though it goes so fast to read … The author has an incredible tone in her language and portrays everything from frame of mind to environment in a convincing way. I'm so happy when I come across a suspense novel like this one!"
Johannas Deckarhörna, book blog / SWE
"Strong, gripping & brilliant!"
Jennies boklista, book blog / SWE
READER'S COMMENTS
"I'm very impressed by this debutant who, according to me, have written this year's most thrilling book. Tell Me You're Mine is an engaging novel about a woman's loss of a child, suspenseful on a very psychological level and at the same time dreadfully chilling at the end, which made me read it without stopping. The book is 420 pages, but so well written, engaging, thrilling and an easy read which makes you just flip thought the pages. I can strongly recommend this book and look very muck forward to more books written by Elisabeth Norebäck. It is great to have a really good and exciting thriller author in Sweden who stands out among all the detective novels we have way too many of. I give it a very strong 5!"
Reader comment at adlibris / SWE
"What a fantastic debut! I was hooked already from the first page. The author writes in a way that captures the characters' thoughts and feeling so well, you almost believe you are inside the book and watch it all happen by looking through their windows. I really enjoy the way the book is written and what an incredible forward drive it has. Every single moment today I have read, in the waiting room at my physiotherapist, before workout, when I was cooking, even when I was talking on the phone (my poor husband). The book is impossible to put down, a true page-turner! One of the best books I read this year!"
Reader comment at adlibris / SWE
"So very thrilling and moving! I couldn't stop reading until I finished the last page. And now I wish the book was longer, that it never ends!"
Reader comment at adlibris / SWE
"Tell Me You're Mine is a real page-turner, and impossible to stop reading. I read it all at once (in bed) in the middle of the night. Incredibly thrilling to the very last page. I hope this author will write more books. The best I've read in a long time!"
Reader comment at bokus / SWE