THE LAMPLIGHTER (Lykttändaren)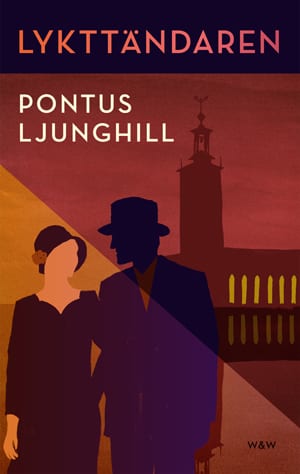 The Lamplighter evocatively depicts a vanished Stockholm, with the Klara Quarters still intact, and where a just recently built City Hall is ready to be inaugurated. A story about riddles, destinies and elusive truths.
The Lamplighter unfolds during the summer of 1923, five years before Pontus Ljunghill's successful debut An invisible.
A young woman, Julia Ekengren, is found murdered in only her underwear in her apartment at Tegnérgatan in Stockholm, after not having been seen since Midsummer Eve. The police begins an investigation, in which Inspector John Stierna and his colleague Commissioner Verner Lydman are trying to put pieces of a puzzles together, with the hope that a picture of the victim and her assailant will emerge bit by bit. But a number of uncertain pieces are mocking them and makes the murder difficult to decipher. Who was the lone woman, and is the answer to her death to find in secrets of the past?
An Invisible, published 2011, became a huge success, both among readers and the critics. In The Lamplighter, we meet John Stierna again, but this time five years earlier in his career.
Rights sold
Sweden: Wahlström & Widstrand
BLURBS
"The Lamplighter by Pontus Ljunghill is an excellent novel, well-written, exciting, entertaining. Just as it should be in a book among the very best in the genre."
Leif G W Persson, author and criminologist / SWE
REVIEWS
"The best book christmas present this year."
Amelia / SWE
"Placing a crime story in Stockholm in the 1920s is a challenge. With good research and gentle touch Pontus Ljunghill succeeds in recreating the capital as it was nearly 100 years ago."
Östra Småland / SWE
"Pontus Ljunghill has his very own, thoughtful tone, where the abundant rich depiction of Stockholm in the 1920s carries echoes of Stieg Trenter, Sjöwall/Wahlöö and indeed Per Anders Fogelström. It's brilliant."
Dagens Nyheter / SWE
"As a reader, I follow the police thorough and time-consuming work with great interest, while I am caught up by the the mood in the story and the scenes of the city and streets of Stockholm in the twenties. A successful combination of excitement, history and colourful portraits."
Aftonbladet / SWE
"Pontus Ljunghill offers high voltage in combination with a kind of peacefulness when he gives the reader the opportunity to sink into a time long before Facebook updates."
Femina / SWE
"Like flipping through an old photo album where faded street images suddenly colour and come to life – that's how it is to jazz along with Pontus Ljunghill in his nostalgic and sparkling Stockholm noir."
M-magazine / SWE
"The intrigue is moderately complicated with perplexing ambiguities and secrets revealed of the victim's past. The police work, according to the methods of 90 years ago, is well described and the depicturing of the environment is nostalgic in a good way. One recognizes a lot from old movies. I really like this and it is a nice contrast to the contemporary crime novels."
DAST Magazine / SWE
"Pontus Ljunghill has not only written a brilliant detective with a true depiction of time. It is also a study in evil, and what evilness does to people."
Ölandsbladet / SWE