Anne Cathrine Bomann, for "L'ora di Agathe"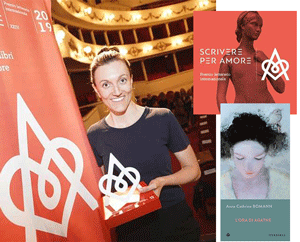 Congratulations Anne Cathrine!
Anne Cathrine Bomann wins the prestigious Italian award Scrivere per Amore 2019 (Writing for Love 2019) with her novel AGATE ("L'ora di Agathe"). She receives the prize on Sunday October 20, the last day of the "Scrivere per Amore" Festival in Verona, Italy.
The "Scrivere per Amore" Award
Since the start in 1996, the Scrivere per Amore award is given to works of fiction published in Italy that have a love story as their theme. Over the years, the literary prize has always seen the attentive and encouraging participation of publishing houses and prestigious Italian and foreign authors. It is an atypical but strongly symbolic award that links the name of Verona to the image of love, as it is its mission.