Lotta Erikson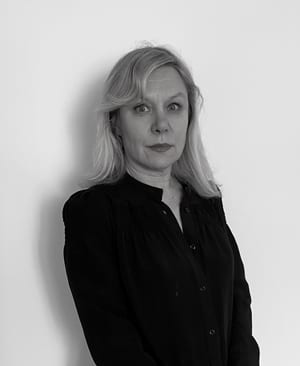 Lotta Erikson has moved between fiction and documentary since she graduated from the Dramatic Institute in 1990.
Her interest in the outside world has meant that she has often written drama with a political edge where society as a theater is explored. She works with both tragic and comic stories and the experience of the world as absurd and unpredictable characterizes much of what she does. Humor and man's attempt to live and be happy is a constant source and is evident in her work in both the shorter and the longer format. In addition to writing screenplays and drama, Lotta is a recurring host in the program Godmorgon, the world of Swedish Radio, has made award-winning documentaries and worked on SVT, Swedish Radio and the BBC.
In Development
TV-series (five episodes) for Swedish Television Drama
Live action movie, manuscript for major Swedish Film Producer
Radio Drama, true crime, (six episodes)
Filmography – Fiction
Film & TV
2020 – The Hunt for a Killer (Jakten på en mördare), TV-series, true crime, för Swedish Television Drama. Production: Yellowbird.
2018 – Come on Caritha (Kom igen Caritha). Theatre production: Theater Barbara, Soppteatern, Göteborgs stadsteate
2018 – Choreography of Insomnia, Interactive drama. Public Health Agency of Sweden's conference about mental health, in Globe Arena.
2017 – Voices in Sofia (Röster i Sofia), Interactive drama. Sofia Church.
2010 – About Friendship (Om vänskap). Hudiksvall's Theatre.
2006 – Martha Knows Everything About Happiness (Martha vet allt om lycka). Theatrical play. Teater Zebradans
2005 – England England, Dansstationen Malmö and Moderna Dansteatern.
Radio
2019 – The One Eyed Rabbit (Den enögda kaninen),  series in four episodes for Swedish Radio Drama. The Swedish contribution to Prix Italia.
2014 –Crash in the Elysée Palace (Kras i Elyséepalatset). Radio Drama, Swedish Radio.
2012 – The Last Call from Rosenbad (Sista samtalet från Rosenbad), Radio Drama, Swedish Radio.
2012 – After the End of Time (Efter tidens slut)  libretto Stockholm Concert Hall and Swedish Radio P2.
2006 – Splendid Isolation,  Radio Drama, Swedish Radio.