GUSTAV TEGBY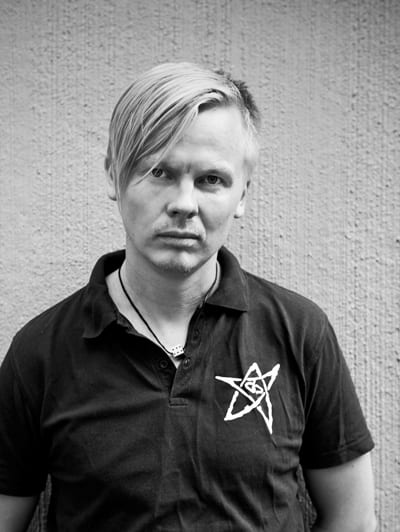 Gustav Tegby is a screenwriter and playwright with a fondness for everything that's weird, supernatural and noir-ish.
He has written about twenty plays, several with horror themes, that have been performed in Sweden, Finland and the US Ghosts & Zombies (Gengångare & Zombies), his horror adaptation of Henric Ibsen's classic Ghosts, was originally performed at Malmö City Theatre in 2011, directed by Rikard Lekander and starring acclaimed actress Ann Petrén in the principal part of Mrs Alving. The adaptation has since been produced twice in the US.
His play Everybody Loves Bernie Madoff (Alla älskar Bernie Madoff ) has been produced three times and was also televised. Gustav was one of the writers of the hit radio thriller mockumentary Voices of the Dead (De dödas röster), and one of the creators and writers of the 2017 radio Christmas series A Winter Nightmare (Marvinter).
Gustav is born and raised in Umeå in northern Sweden. He has worked for ten years as a dramaturg at Riksteatern (The Swedish National Touring Theatre).
UNDER DEVELOPMENT
2022 – Original project for tv-series, Swedish producer
RADIO
2021 – Don't be Afraid (Var inte rädd), thriller pod original, Swedish Radio
2018 – Contagion (Smittan), thriller pod based on the novel with the same titel, Swedish Radio
2017 – Marvinter (Marvinter), with Ida Kjellin and Johanna Koljonen, original script, Christmas Calendar, Swedish Radio
2016 – Voices of the Dead (De dödas röster), episode writer, series created by Sara B. Elfgren, drama pod, Swedish Radio
2011 – The Constant Terrorist (Den ständige terroristen), Swedish Radio
FILM & TV
2018 – Beneath the Surface (feature in development for Snowcloud films)
2018 – The Return (TV series in development for Snowcloud films)
2011 – Everybody Loves Bernie Madoff (Alla älskar Bernie Madoff), televised play, directed by Dag Thelander
2008 – Can't Complain (Synd att klaga), 30 minutes movie for Swedish Television, directed by Simon Gunnarsson
2006 – Kommer snart, short, directed by Simon Gunnarsson
2004 – Life is Sweet (Jämna plågor), short, directed by Gustav Tegby & Simon Gunarsson
THEATRE (SELECTED)
2022 – Jekyll vs Hyde, Dalateatern
2017 – Freak (Fulet), Teater 23
2013 – Necronomicon, Dramaten
2013 – Outbreak (Utbrott), Profilteatern
2012 – Ghost & Zombies (Gengångare & Zombies), Malmö Stadsteater
2012 – Be More Like a Steamroller (Vårens nyckelord är ångvält). Riksteatern
2011 – Gargantua, Skuggteatern
2009 – Everybody Loves Bernie Madoff (Alla älskar Bernie Madoff), Dramalabbet
RELATED NEWS
GUSTAV TEGBY'S ORIGINAL PLAY PREMIERES