ÅSA WIKFORSS
Sweden's coolest philosopher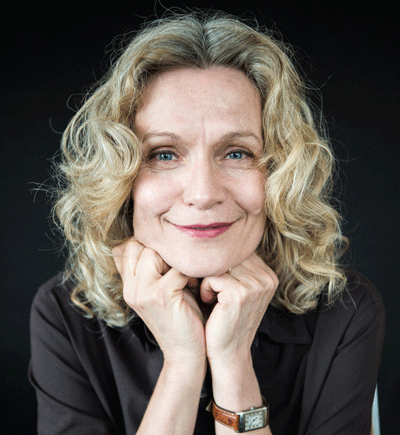 Non-fiction
Rights and awards
Rights
China
Croatia
Denmark
Finland
Germany
Hungary
Korea
Norway
Slovakia
Spain (Spanish World Rights)
Sweden
Taiwan
Turkey
Vietnam
Awards
2019 – The ÅForsk Knowledge Prize
2019 – Natur & Kultur's Popular Science Award
"Knowledge stands at the center of human existence, it is what sets us apart from the other animals and is what makes human cooperation and progress possible. When knowledge is under threat we are all under threat. The challenges we are facing are not simply philosophical, but concern politics and changes in the fabric of society. However, philosophy gives us the tools we need to understand the challenges and meet the enemies of knowledge, and I felt that as a philosopher it was time to step up to the plate."
Åsa Wikforss
Åsa Wikforss has a PhD in philosophy from Columbia University, New York, and is a Professor of Philosophy at Stockholm University. She has a career as an international scholar, lecturing across the world and has published widely in international research journals. She is a member of the Academia Europaea, the Royal Academy of Sciences and was recently elected a member of the Swedish Academy. With the publication of her popular book on post-truth she is rapidly gaining recognition as a public intellectual in the wider European context – as a woman defending reason and truth against the enemies of knowledge.
In the spring of 2019 Åsa Wikforss was awarded Natur & Kultur's Popular Science Award for the book which had now become a best seller. The jury motivation:
"Powerful and elegant, Åsa Wikforss popularizes popular philosophy, explains the conditions of science and defends the role of the researcher. With dedication, persistence and educational clarity, she punctures a relativizing view of knowledge, stimulates critical thinking and maintains the good conversation."
Endoresements
"A thorough, sensible, and beautifully reasoned analysis of one of the most pressing issues of our time."
Steven Pinker, Johnstone Professor of Psychology, Harvard University, and the author of 'Enlightenment Now'.
"Already before the current wave of knowledge resistance this book would have been an important read. Today it is indispensable."
Dan Larhammar – President of the Royal Swedish Academy of Sciences
"Combining insights from philosophy, psychology and sociology, while maintaining a light and witty touch, Wikforss provides us with a deeply illuminating analysis of our current predicament.  A tour de force."
Paul Boghossian, Professor at NYU and author of The Fear of Knowledge
"This book by one of Sweden's leading philosophers provides an insightful and highly readable introduction to how we should think about knowledge and how we can defend it against the current attack by 'post-truth' politicians."
Stephan Lewandowsky, Chair in Cognitive Psychology, University of Bristol
"Åsa Wikforss is an important educator of our time. Everyone should read her."
Björn Ulvaeus, Cultural entrepreneur and former member of ABBA
Note to publishers of Åsa Wikforss:
If you wish to use the endorsements above when publishing Alternative Facts, please contact Umberto Ghidoni umberto@grandagency.se for instructions.