Women of the year 2020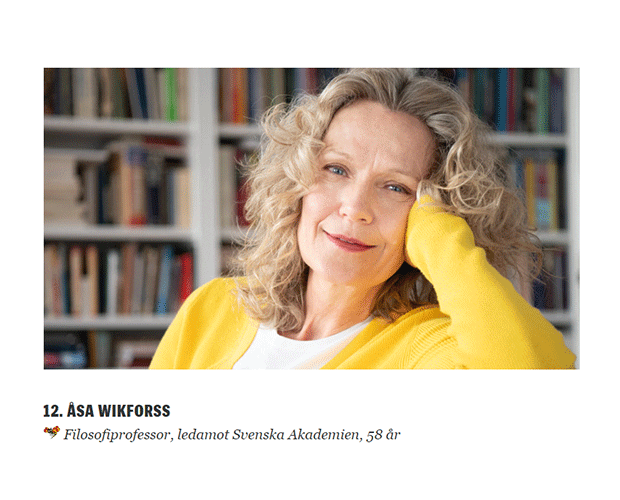 On March 8, International Women's Day, the Swedish newspaper Expressen acknowledged 100 Swedish women who are role models or stand out in another way. Åsa Wikforss is #12.
Expressen's motivation:
Her book Alternative Facts – On Knowledge and Its Enemies, was given to over 110 000 students in their last year of Swedish high school and she was elected a member of the Swedish Academy, an institution in great need of female wisdom. Symbolic as well, that of the eighteen chairs in the Swedish Academy, this popular educator took over Sara Danius' chair.
The gift mentioned in the Expressen motivation was given to the students by cultural entrepreneur and former member of ABBA Björn Ulveaus, who is also one of the owners of Fri Tanke Publisher. He decided to hand out this gift as an act "to prevent stupidity" he said.
Endoresements
"A thorough, sensible, and beautifully reasoned analysis of one of the most pressing issues of our time."
Steven Pinker, Johnstone Professor of Psychology, Harvard University, and the author of 'Enlightenment Now'.
"Already before the current wave of knowledge resistance this book would have been an important read. Today it is indispensable."
Dan Larhammar – President of the Royal Swedish Academy of Sciences
"Combining insights from philosophy, psychology and sociology, while maintaining a light and witty touch, Wikforss provides us with a deeply illuminating analysis of our current predicament.  A tour de force."
Paul Boghossian, Professor at NYU and author of The Fear of Knowledge
"This book by one of Sweden's leading philosophers provides an insightful and highly readable introduction to how we should think about knowledge and how we can defend it against the current attack by 'post-truth' politicians."
Stephan Lewandowsky, Chair in Cognitive Psychology, University of Bristol
"Åsa Wikforss is an important educator of our time. Everyone should read her."
Björn Ulvaeus, Cultural entrepreneur and former member of ABBA
Note to publishers of Åsa Wikforss:
If you wish to use the endorsements above when publishing Alternative Facts, please contact Umberto Ghidoni umberto@grandagency.se for instructions.