SABINA ZUPANC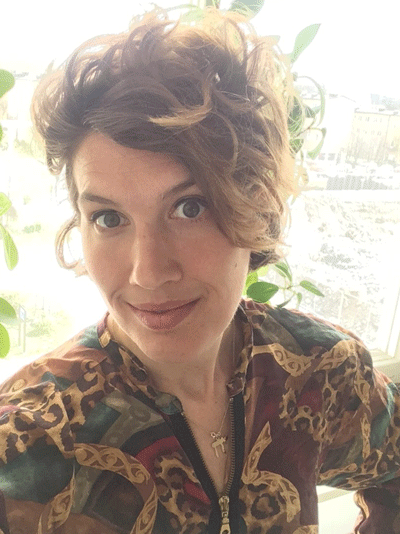 Sabina Zupanc is a screenwriter and dramaturge that has a background as midwife. Her vivid fantasy and twisted sense of humour is her hallmark.
Sabina writes drama, comedy and fantasy with emphasis on sharp turning points. She has worked in many different genres, but coming-of-age stories has a special place in her heart. She is especially skilled in character-driven drama and comedy.
Zupanc's previous background as a midwife & school nurse gives life to the stories. Her expertise and strong sensibility for the human conditions promises an innovative take on her stories. With deep respect for her audience – and the theme – Zupanc portrays children's rights, young love, sexuality, mental illness and rootlessness. She is interested in how characters move beyond archetypes into complex characters. The vibrant heart and wild transformation runs as a connecting thread through her work.
Sabina Zupanc is educated at SKH, Blue Cat Screenplay (San Francisco) for Gordy Hoffman, masterclasses at Den Danske Filmskole, Biskops Arnö's Screenwriter Education, and is a trained screenwriter at Alma Löv Script Academy. Since 2018 she's been working as a freelance on tv-series (concepts), storylines, episodical tv and film for several different production companies (including being a script consultant).
In development
Ready to fly, feature film, producer Lars G. Lindström, Fellonica Film
The Good Vet, LittleBig Productions, headwriter
Fuck my life, feature film, free of option
Script consultant to YLE, Film Stockholm, Film I Öst and many production companies since 2018.
Filmography
TV
2019-2020 – Thin Walls (Tunna väggar), Globalans, scriptwriter
2019 – Thicker Than Water (Tjockare än vatten), Nice Drama/Viaplay, second scriptwriter
2018-2019 – Find Home (Hitta hem), scriptwriter pilote episode
2018-2019 – In Snow (Det som göms i snö), Yellowbird, script editor
2017 – The Love Child (Kärleksbarnet), Dessiné AB, scriptwriter
Theatre
2014 – Liv Strömquist is Thinking of You (Liv Strömquist tänker på dig), Dramaten, assistant director
Film
2021 – Rebecca, short film, Amphi Produktion