SARA B. ELFGREN & EMIL MAXÉN
Traditional fairy tales turn into Baroque fantasy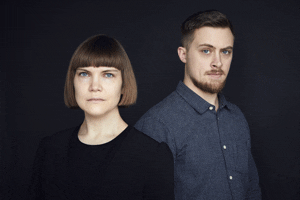 Children's books
Rights and awards
Rights 
Denmark
Italy
North Macedonia
The Faroe Islands
Sweden
With The Big Banquet Sara B. Elfgren and Emil Maxén desire to break new ground in the fairy tale genre and with the Baroque era (instead of the Medieval time) as a springboard, they dug up overlooked myths and creatures. They explored the strange and fascinating peculiarities of the 17th century, and created a thrilling, epic adventure together. The result is a brand new genre: Baroque fantasy for Children.
Sara B. Elfgren decided early to commit to the dream of becoming a writer. Her debut novel – The Circle (first book in the Engelsfors trilogy) – which she co-wrote with Mats Strandberg became a bestseller, was critically acclaimed and has been translated to twenty-five languages. It was also made into a movie and was nominated to the August Award in 2011.
Sara B. Elfgren is interested in many genres, but her primary focus is speculative fiction. She is attracted to "what if"-scenarios where the laws of nature are thrown out of balance, especially when the supernatural clashes with our everyday lives.
In Dreams, Sara B. Elfgren's solo debut was nominated to the to the Nordic Council Children and Young People's Literary Prize 2018. It was the number one bestselling YA novel of 2017 in the largest Swedish internet bookshop. Her pictures books for small children, illustrated by Maria Fröhlich are loved by the readers, and Vei, the epic fantasy comic inspired inspired by Norse mythology, created together with illustrator and artist Karl Johnsson is a critics success and published in USA and several other countries. Sara B. Elfgren is also a screenwriter and playwright and writs VR-games.
Emil Maxén is an illustrator, writer and comic artist. He is the creator of the highly acclaimed graphic albums about the grumpy hermit and half-troll Great Jobal from Krokjala. The Bag of Horrors, Snatcher in the Rye and The Doomsday Cuckoo are loved by the readers and critics.
As concept and storyboard artist Emil Maxén has made storyboards and visual manuscripts for several international productions all over the world. He has also illustrated the SVT Advent Calender.
Emil Maxén is interested in history and at the same time superstion and myths intrigues him. He often mixes historical facts, epochs and persons into his different projects. The pictures blend the bizarre, absurd and scary with easy-going, detailed and playful motifs. 2019 he recieved the Albert Engström Award in the youth category.
The Big Banquet started as an idea for a children's book which Emil Maxén had been carrying around for a while. When Emil and Sara decided to develop it together their creative minds and skills immediately blended together. Sara writes and Emil illustrates.