LENA KOPPEL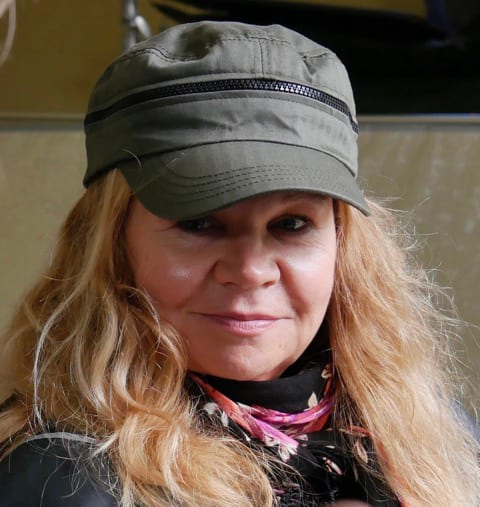 Lena Koppel is a director and scriptwriter and has worked many years for TV, Film and Theatre. After film studies Lena Koppel's first internship was at Ingmar Bergman's After the Rehearsal (1983).
When she started to write and produce her own films in the late 80-ies she was inspired by the current time art house-films. In the 90-ies she worked at SVT children- and teenage department.
Lena Koppel has directed and written and co written six feature films: Krocken, Hur många lingon finns det i världen, Hur många kramar finns det i världen, Bombay Dreams, Rallybrudar and True moments. She also has directed several TV series, among them Saltön, Höök and Sommaren med släkten. Her strength is Comedy/Drama and Suspense.
The trademarks of Lena Koppel are gentle, intelligent and warm humour. This gives her films a friendly yet sharp tone.
Scripts and directing (selection)
2019 – ÅreAkuten, TV series, episodes and directing, Viaplay
2018 – Krocken, original movie, Cmore/TV4
2014 – Hur många kramar finns det i världen, original movie, SF
2010, 2016 – Saltön 4, TV series, 7 episodes, SVT
2011 – Hur många lingon finns det i världen, original movie, SF
2009 – Rallybrudar, movie, SF
2004 – Bombay Dreams, original movie, SF
2001 – Love boogie, TV movie
1994 – Sanna Ögonblick, movie, Sandrews
Directing (selection)
2017 – Sommaren med släkten, TV-series, comedy
2012 – Sam tar över, TV-series, children
2007 – Höök, TV-series, 3 hours, thriller
2006 – MON 3, drama/thriller, nominated Uppsala best short
2002 – Love Boogie, comedy, recieved 5 awards in Sweden
1994-2005 – 50 short stories for TV, drama/comedy for Swedish TV; youth and children
1992 – Den flygande norrlänningen, drama, recieved award for best short, Sweden
The Christmas Thief, 17 episodes, comedy
Theatre, directed
LadyKillers – Gunnebo slottsteater
Ladykillers – Riksteatern
Jordens Undergång – Stockholms Stadsteater
Education
Film directing: European film academy and Focal, Switzerland with Wojchiech Marchewski
Script Courses: Dramatiska Institutet, Sweden
Film: University
Acting for Directors: Judith Weston, Boston US and Binger Institut, Amsterdam