Cilla & Rolf Börjlind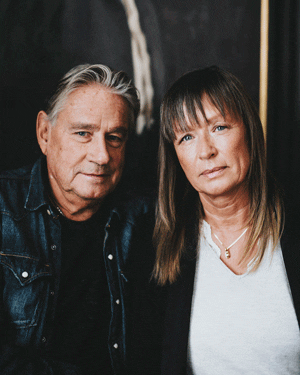 Crime fiction
Rights
Belgium
Brazil
Bulgaria
China
Croatia
Czech Republic
Denmark
Estonia
Finland
France
Germany
Greece
Hungary
Iceland
Israel
Italy
Japan
Korea
Latvia
Lithuania
The Netherlands
Norway
Poland
Portugal
Russia
Serbia
Slovakia
Slovenia
Spain (REVERTED RIGHTS)
Sweden
Turkey
UK (REVERTED RIGHTS)
Film rights
Book 1 -2: Filmlance, Sweden
Book 3 and on: Pampas Film, Sweden
AWARDS AND NOMINATIONS
2022 – Nominated for Storytel  Awards, Best Crime fiction of the year
2021 – Winner of the Public's Choice Best Thriller of the Year, Netherlands
2020 – Nominated for Storytel Awards, Best crime fiction of the year
Cilla and Rolf Börjlind are not only Sweden's most praised script writers for crime and thrillers, they are also bestselling authors. Even before Spring Tide, the first book in the series about Olivia Rönning and Tom Stilton, was launched in Sweden, it was sold to twenty countries. A figure now increased to 30.
Their books are characterized by charismatic characters and the stories depicture Sweden, full of social conflicts. The routine from script writing is reflected in the ability to create tension and twisted plots. Everything is tied together, elegantly and sometimes surprising. When reading, you plow through the stories. In the Börjlind world people are driven by a passion for social justice. Another characteristic is the typical Börjlind surrealistic humor.
Ever since the Spring Tide was first published, the Swedish and international critics still as overwhelmed finding that the duo overdo themselves for each title released.
Being two of Sweden's moste apraised film script writers, Börjlinds of course also adapt their books into TV series. Spring Tide aired on Swedish television 2016 and The Third Voice, in 2018. Their extensive experience include writing 26 Martin Beck-films for movie theater and TV. In 2004 and 2009 Swedish television showed their long crime series The Grave and The Murders, written directly for SVT. The series became an immediate successes, among the critics as well as with the audience.
Editor's comments
"I fell in love with the Börjlinds from page one: Strong and remarkable characters. Important and thrilling stories. Hope actually that this series will never end."
Regina Kammerer, btb Randomhouse / DE
"Authors Cilla and Rolf Börjlind know how to build a story, and Olivia Rönning and Tom Stilton are two wonderful characters who have captivated the Dutch readers from the moment they got introduced in Springtide. And they – and the series – become more popular with each book, something that is not so common anymore these days. Combined with the intelligent storylines, excellent pacing and dialogue, this has proven to be our most successful crime series to come out of Sweden in recent years."
Steve Maat, AW Bruna / NL