SPRING TIDE (Springfloden)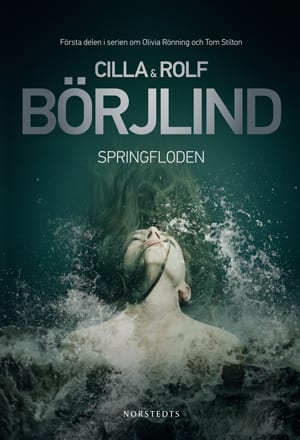 Before a stunned full moon a brutal murder is committed on North Koster in the year of 1987. The victim is a young pregnant woman. Detective Tom Stilton has a lot against him when he takes on the case. The victim's identity is unknown. He finds no motive. The killer hasn't left any trace behind. Despite intense investigative work the case remains unsolved.
Twenty years later, a number of homeless people in Stockholm are severely beaten. Each assault is filmed and posted online. The attacks are met with disgust from across the country.
Olivia Rönning is in her second year of the police academy. She is the daughter of a homicide detective, Arne Rönning, who died an untimely death a few years ago. Before summer break begins, the police candidates receive a summer assignment. They shall investigate a cold case. Olivia chooses the beach case from North Koster. Many questions arise when she goes through the documents. She realizes she has to get hold of the man who led the investigation, Tom Stilton, in order to get answers to the questions. There is just one problem: Stilton is gone. He left the police force. Nobody knows where he has gone. Olivia goes out in search for him.
Spring Tide is an extraordinary debut. It is a strong history and a real page-turner that you cannot put down.
442 pages
RIGHTS
Belgium: AW Bruna
Brazil: Rocco
Bulgaria: ERA Publishers
China: Chongqing Green Culture Co
Croatia: Znanje
Czech Republic: Euromedia
Denmark: Gyldendal
Estonia: Kirjastus Sinisukk
Finland: Schildts & Söderström
France: Editions du Seuil
Germany: btb/Random House
Greece: Ekdoseis Kyriakos Papadopulos S.A.
Hungary: Cartaphilus
Icleand: Forlagid
Israel: Kinneret Zmora
Italy: Nord/Mauri Spagnol
Japan: Tokyo Sogensha
Korea: THENAN Publishing Co
Latvia: Zvaigzne ABC Publishers
Lithuania: Media Incognito/Obuolys
The Netherlands: AW Bruna
Norway: Gyldendal
Poland: Sonia Draga
Portugal: 20|20 Editora
Romania: Editura Paralela 45
Russia: EKSMO
Serbia: Vulkan
Slovakia: Ikar a.s.
Slovenia: Hisa knjig Kms
Spain: Ediciones B (REVERTED RIGHTS)
Sweden: Norstedts
Turkey: Koridor Publishing
UK: Hesperus Press (REVERTED RIGHTS)
FILM RIGHTS
Filmlance (Shine Group)
REVIEWS
"An intricate tale of social delinquency and crimes in high places emerges, building to a nail-biting finish."
Publishers Weekly
"A gripping, cinematic crime thriller from the scriptwriters known as the king and queen of Scandinavian crime, expertly crafted and full of twists and turns."
GoodReads / UK
"Spring Tide is an impressive thriller; immersive and intelligent, with sinister villains, surprising twists and a likeable, resourceful investigative team. Swedish writing duo Cilla and Rolf Börjlind are crime fiction veterans, and it shows in the intricate plotting and the nimble way they flit between a huge cast of characters without ever letting the story become incoherent."
The List / UK
"A first-class, very exciting thriller in which nothing is what it seems to be."
Allgemeine Zeitung / DE
"Captivating and exciting."
Illu der Frau / DE
"A novel, for which one could easily commit a murder – Cilla and Rolf Börjlind have with great succes succeeded to write a true (criminological) Masterpiece. The reading becomes a cinematic blockbuster experience which keeps the reader captured until the last page, and it takes your breath away."
www.literaturmarkt.info / DE
"A very satisfying reading experience."
Swedish Book Review / SWE
"These two experienced plot-smiths have managed to create a universe where the characters are interesting without being overworked. They have placed their protagonists in a story where you constantly get surprised and that is culminating in something that could be compared to fireworks a late night on a dark Scandinavian sky. This is professional and effective entertainment "
Politics / DK
"Spring Tide lives up to all expectations. The novel is characterized by a unique ability to draw strong scenarios, which always characterizes the Börjlind's television scripts. An excellent story of a well-told story … "
Nordvestnyt / DK
"The originality of Spring Tide is the combination of the main characters that feels fresh and different from today's typical police novel. Cilla and Rolf Börjlind have created characters to like and already one longs to meet them again and get to know them better. The portrayal of contemporary Stockholm is compelling and relevant."
Smålandsposten  / SWE
"Many loose threads are woven into a most compelling Swedish thriller debut."
Jyllands-Posten / DK
"They have a language and they know their genre. The construction of the intrigue is impressive. It's complex without being artificial and contains everything from turning points to unexpected revelations. The past and the present are woven together, but it is more refined than justifying the crimes with something that happened long ago. Olivia Rönning and Tom Stilton is definitely a deckar duo that I will follow. "
Svenska Dagbladet  / SWE
"Very exciting crime novel that spans around several layers of society, from the homeless, prostitutes and abused children to industry potentates and politicians."
Metro  / SWE
"Effectively told by the experienced Börjlind couple."
Hallands Nyheter / SWE
"The Börjlind couple know their dramaturgy and they express themselves killingly neat."
Expressen / SWE
"Fine depicted human destinies surrounded by an exciting plot."
Spotlight / DK
"It feels almost impolite to call two of Sweden's most respected writers for 'debutants', but in a way it is true, for this is the first time they will be published in book form. And what a debut! "
Krimifan / DK
"With grand routine from the film and television industry, Börjlind's manage to bring their skills of excitement and twisted plots to the novel writing. Everything is tied together neatly, elegant and sometimes surprising. Not only do the Börjlind's know how to create a good intrigue, they also provide interesting portraits, including the supporting characters, and they describe most original environments."
Sydsvenskan / SWE
"Spring Tide is quite an extraordinarily exciting novel. It's richly populated by interesting people and it ends with a couple of good surprises for the reader. This is exactly what I like. There is almost nothing better than when you can exclaim 'Oh shit! when the full extent of the story is clear to you. "
Gefle Dagblad / SWE
"I don't know when I last read a Swedish debut in this genre with such a stylish and competent grip of the whole intrigue. The Börjlind's grab me from the very start. Personal portraits are delicious and credible, the action moves methodically across several exciting levels and dialogues feel al the way natural. All that film script writing has not exactly been a disadvantage in terms of writing dialogues … I don't want to have to wait too long for a renewed contact with Stilton & Rönning. When it's time to sum up the never ending river of Swedish crime of 2012, I think this will be very hard to beat."
Mariestads-Tidningen / SWE
"When the novel's various parts begin to move toward each other, it is never quite the way we think. Cilla and Rolf Börjlind definitely know how to create an intrigue. Additionally, Olivia Rönning and Tom Stilton (when he eventually shows up) is an odd murder-solving-duo that feels like a breath of fresh air in the genre."
Norra Skåne / SWE
"Detective novels, more than any other novel genres, require a craftsmanship that is often underestimated or misunderstood as mere mechanics. Nothing could be more wrong. It's more about rhythm and musicality – the attention to detail, the eyes of the everyday small biases as well as the sharp-eyed presence at a crime scene where nothing can be left to chance. Cilla and Rolf Börjlind have it – in the hands, in the eyes, in the language. The timing is perfect, the dramaturgical flair, the space for the silence that occurs when the unspeakable and the too painful get too close. Everything is there!"
Västerbottenskuriren / SWE
"The first book about Olivia and Tom is very promising for the future. The Börjlind's has written a really exciting crime novel, absolutely impossible to put down. I would be very surprised if this novel will not also be filmed."
LitteraturMagazinet / SWE