CHARLOTTE AL-KHALILI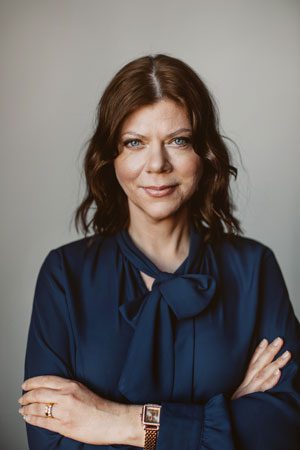 Crime fiction
Rights and awards
Awards and Nominations 
2022 – Nominated for Best Crime Debut of the Year for Maelstrom by The Swedish Academy of Crime Fiction.
Charlotte Al-Khalili writes contemporary crime fiction and suspense. With a bachelor's degree in legal science and a passion for true crime, her novels have a realistic style with dark undertones. Inspired by the newspaper headlines, she often depicts how regular people get entangled in circumstances beyond their control, and their struggle to navigate uncharted waters.
Her first book, Reap the Whirlwind, was published in 2018. It's a chilling tale of the malicious and Machiavellian quest for power in a workplace, and the trail of collateral damages that follows. The conflicts and double crossings are laced with sharp wit and are recognized by those who have ever encountered a corporate psychopath.
In 2022, her second novel, Maelstom was published by Norstedts. Taking a new approach to traditional storytelling, Maelstrom is written with multi perspectives, where each character is experiencing their own version of reality. They are all heroes in their own lives, and also their own worst enemies. The core of the narrative is the murder of a young man. Maelstrom is saturated with themes of betrayal, absent fathers, and fractured relationships.
Though living in Stockholm, Charlotte's best writing is done in the quiet countryside in Barva, away from the capital where her novels are set. When she is not busy building fictional worlds, she enjoys travelling in the real one.
Bibliography
2022 – Maelstrom (Malström), crime fiction
2018 – Reap the Whirlwind (Skörda storm), suspense
Kajsa Göransson. For photo rights please contact the photographer at info@kajsacharlotta.se
Related news
AL-KHALILI NOMINATED FOR BEST CRIME DEBUT OF THE YEAR FOR MAELSTROM