The Big Banquet goes Christmas Calendar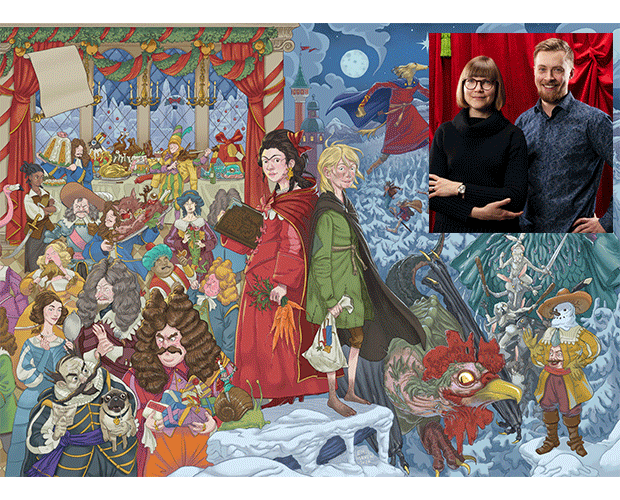 In December, 24 episodes of The Big Banquet will be sent as the traditional Christmas Calendar for Swedish Radio. 
Every year the public Swedish radio airs a Christmas Calendar – a carefully selected children's book re-written into 24 episodes, starting on December 1st, and ending on the 24th. It is a prestigious tradition of the Swedish cultural heritage, and it has been aired on Swedish radio since 1957.
We are therefore proud, to say the least, to reveal that this year, it is the beautiful fairytale The Big Banquet by Sara B. Elfgren and Emil Maxén the listeners will be able to enjoy during December 2020. With a saga that speaks to the younger as well as the older generation, The Big Banquet is a story full of humor, emotion, and energy.
"It is a cornucopia overflowing with odd mythological creatures, sibling rivalry and friendship, fake counts and gossipy marchionesses, betrayal and heroism – and pugs", says writer Sara B. Elfgren.
"What's so special about this calendar is that we will follow two main characters at the same time, at their respective adventures. The baroque period is the foundation for a unique world of fantasy, where thorough groundwork is behind all the illustrations of both men and monsters", says Emil Maxén, writer and illustrator.
Directing the calendar will be award winning director Eva Staaf. Her latest radio production was a remake of The Brothers Lionheart by Astrid Lindgren.
We are immensely proud of this author duo, and even though we enjoy the warmth of the sunshine, we cannot wait until cold December and Christmas!