The Day When James McDougal Disappeared
(Dagen när James McDougal försvann)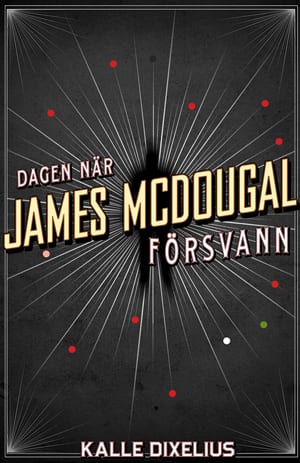 James McDougal grew up in what must have been Sweden's most boring household. His house was so quiet the neighbors didn't even know it was there. His entire childhood went by unnoticed by everyone, including himself. Only once did his family ever go on vacation; a camping trip in some tiny town in the middle of nowhere. For James this was a magical time as this is when he befriended Maria, the girl in the neighboring tent. As the rain pours the two of them bond over secrets and childish games, a wet summer becoming the adventure of a lifetime.
Years later, James McDougal is a recluse living a life of introverted solitude, one of the grey men who fill the streets of any city, unnoticed by all, slinking into a neighborhood bar for a pint. It's over such a pint that he sees her again. Maria Nagy, the girl he never forgot, sitting at a table across from him. Awash with shameful emotions he dares to look directly at her, to meet her eyes for the first time in many years – and she sees right through him, as if he wasn't even there.
James slinks out of the bar, hangs his head in an empty subway car, years of loneliness sinking in to his chest. Then a woman sits on him. She jumps, startled, but she still can't see him. James has become what he always felt he was: invisible.
But he is not alone. Maria Nagy also carries a secret. When she shakes hands with a new client she gets a horrifying vision of burned corpses, riddled with disease. A string of lost and confused people start to realize they are not like everyone else, that their weaknesses, the very character traits that defined them growing up, have transformed into something far more powerful, something they cannot understand or control. How are they connected? How will they all come together? Will the horrifying visions of Maria Nagy become our nightmarish reality, or will this band of misfits get their act together and race against the clock to prevent a disaster that could affect us all?
The Day James McDougal Dissapeared is a gripping tale about our innate desire to make a difference. In a self assured voice, author Kalle Dixelius unleashes our imagination, offering a brilliant, heartbreaking and sometimes tragic story about rising up above our own preconceptions to prove our worth as human beings.
310 pages
RIGHTS
Denmark: Rosenkilde & Bahnhof
Sweden: Ordfront
REVIEWS
"A subtle, thoughtful and well-written sci-fi fantasy tale for adults about past and future, fatalism and willingness to change."
Berlingske Tiderne / DK
"This novel contains many of the ingredients that makes a book worth taking in a single mouthful: magic, love and firm resistance. Add to that a touch of science fiction that gives the reader a dystopian binoculars through which one reads the story. The Day When James McDougal Disappeared is a beautiful and sarcastic apocalyptic novel."
Alt for damerne / DK
"Exciting and with an eye for all the little habits and vices that bring characters to life. The heartbreaking portrait of the lonely James McDougal is empathetic as well as touching."
Jyllandsposten / DK
"Kalle Dixelius is a prominent storyteller and paints excellent social realistic detailed portraits of his shadowlike characters."
Weekendavisen / DK
"Kalle Dixelius broadens the army of Swedish superheroes with a flying supermarket cashier, a super strong social officer, a mind-reading PR woman, an unlikely lucky player, and the James McDougal, with Irish roots, who becomes invisible when he thinks sad thoughts. Add to this superb quintet an elaborate cliché detective as spiritual director, Sven Eriksson, and the end of the world becomes if not a pleasure, then at least something we can look forward to with calm and confidence. Dixelius writes a fresh parody of a futuristic novel. His dystopian humor is ingenious and extravagant."
Aftonbladet / SWE
"This week's favorites. A really weird adventure novel."
Metro / SWE
"A Stephen King scented story of misguided individuals who suddenly have a mission."
Femina / SWE