THE UNLIKELY MURDERER (DEN OSANNOLIKA MÖRDAREN)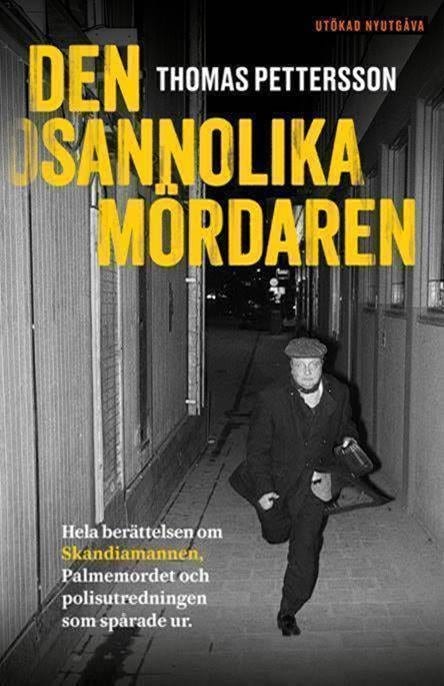 The book that closed the Palme case
For 34 years the unresolved murder of Swedish Prime Minister Olof Palme has haunted an entire nation – not to say the world.
After 12 years of research that resulted in the book The Unlikely Murderer, journalist Thomas Pettersson brought the case to an end. His findings renewed the police investigation of suspect Stig Engström in 2017, and it led to the final judiciary closure in June 2020.
In The Unlikely Murderer Thomas Pettersson presents a number of previously unknown facts in the Palme murder investigation. It is a sensational, enthralling and alarming book that shines light on the many mistakes and misgivings made during the criminal investigation reaching over three decades.
Thomas Pettersson about writing The Unlikely Murderer
"When I started looking into the Palme murder in 2007 and discovered 'The Skandia man', I could barely believe my eyes. His testimony seriously deviated from every other testimony at the crime scene. It was so obvious 'The Skandia man' could be the murderer – why hadn't he been arrested and interrogated?
Ten years later I got access to material pointing at the incorrect grounds of which he had been dismissed from the investigation. At the same time, I received a tip about a close friend to The Skandia man being a weapon collector, and that the weapon collector had owned several revolvers that could have been the murder weapon.
This, alongside prosecutors and investigators re-visiting the crime scene, meant a complete turnaround for the investigation of the murder of Palme. After more than 30 years would The Skandia man become the police's main track.
On June 10th, 2020 Chief Prosecutor Krister Petersson presented the evidence underlying The Skandia man being "suspected on reasonable grounds" of the murder of Olof Palme. The evidence followed, on every point, the exact material I had presented in my book The Unlikely Murderer a few years earlier – my 12 years of research had finally paid off!"
Rights
Czech Republic: Host
Finland: Otava
Slovakia: Lindeni
Sweden: Offside Press
USA: Skyhorse (WER)
Film rights
FLX, Sweden / Netflix
WORDS ABOUT THE BOOK
"This is the first time that I find a trace really substantial. This is not just speculations, but facts based on real witness accounts about a person who obviously was present at the crime site. It's totally nuts that Engström was dismissed as a suspect from the investigation."
Olof Palme's son Mårten Palme
"I wasn't the least bit surprised, the evidence against Engström seems convincing. I reacted specifically on his his attention-seeking behavior as 'witness' to the murder, as well as, of course, the ex-wife's condescending statement about him and his suicide."
James W. Clarke, retired Professor of Political Science at the University of Arizona and USA's foremost expert on political murders
"The investigators of the Palme murder were delighted at the journalist's finds. These were circumstances that their colleagues should have looked much deeper into for a long way back"
Leif GW Persson, writer and Professor of Criminology
"What's interesting about Thomas Pettersson's research and interviews, which after 12 years resulted in The Unlikely Murderer, is that he returned to the scene of the crime, and stuck to it. He studied the first, unaffected hearings with the witnesses, and then drilled further from there. The result was sensational and most importantly, nothing in his book has been possible to disprove since it was published in 2018. Rather the opposite, the Swedish police in June 2020 presented the exact same solution to the murder as Thomas presents in his book. We are talking about one of the most extensive murder investigations in the world – hence a journalistic achievement of the same magnitude. The book being thrilling and actually easy to read – even though it is about a murder case being pushed back and forth for over 30 years – is just an additional plus."
Tobias Regnell, publisher at Offside Press