THROW A PARTY! (FIXA FEST!)
Lotta Kühlhorn and Håkan Östlundh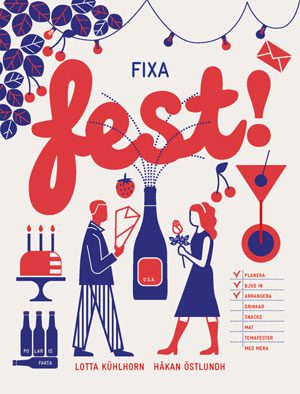 Isn't it wonderful to be invited to a party! To meet new and old friends, mingle, laugh and eat delicious food. You can relish, and be inspired by the memories of a great party for a long time.
If you didn't already know how important it is to be able to socialize in festive forms – dinners, cocktail parties, birthday celebrations, holiday gatherings and spontaneous summer events – then it definitely became clear during the Corona pandemic when we weren't able to meet and party as usual.
On the other hand, many of us feel that it is less pleasant to host, as it is associated with a lot of planning and uncertainty. Will the guests enjoy themselves? Will the food be ready in time? And what about the neighbors, will they start complaining just when the party kicks off?
The book Throw a Party! is as inspiring as a piñata filled with creative tips, experienced advice, and smart thoughts on how to make the best party. The goal is for you to avoid all the stress and pressure around the events and instead be able to enjoy your very own super party.
This is not a cookbook, although it does contain some great recipes. It's a party book that takes you by the hand and guides you through all the party's conceivable – but not obligatory – elements. The invitation, the drinks and hors d'oeuvres, the room, table setting and decorations, fun themes and twists that make guests mingle a little extra, the food, the music, the dance and the night food, it's all there. So, it's time to start thinking about who you want to invite!
Lotta Kühlhorn and Håkan Östlundh have never hesitated over the decision to throw a party. They have invited seventy guests to a Christmas party on July 24 and they refurnished the living room to an air plane to have an "air party". They aim high with mingle parties, celebratory dinners and dance events. It is often a success. But they have also learned to detect the traps and they will never let fixing a party  become a burden.
176 pages
Rights
Sweden: Polaris Fakta
REVIEWS
"Throw a Party! is ambitious in its content and provides inspiration and structure for the party fixer. "
BTJ, Sweden