Strandberg's The Conference to Netflix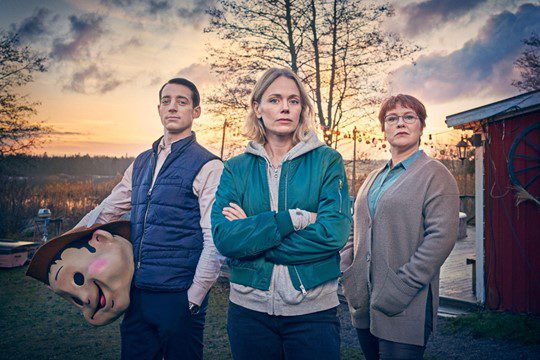 Swedish comedy slasher film The Conference (Konferensen), based on the novel by Mats Strandberg will release globally on Netflix in 2023. Katia Winter and Adam Lundgren are starring in the leading roles as Lina and Jonas alongside Eva Melander as Eva. Patrik Eklund is directing.
The Conference is a comedy horror about a teambuilding conference attended by municipal employees that spirals into a nightmare when accusations of corruption begin to circulate and plague the work environment. Simultaneously, a mysterious figure begins stalking and murdering the participants, one-by-one in this Swedish comedy slasher with warm, humoristic characters.
Produced by SF Studios, The Conference is based on the Swedish author Mats Strandberg's novel of the same name, which was originally published in 2021. Strandberg is one of Sweden's most prolific horror writers, and his books have been published in over 30 countries. Strandberg is also an executive producer of the film.
"It has been fantastic to serve as an executive producer on The Conference. We've had way better atmosphere in our meetings, than the characters in the film. Thomas Moldestad and Patrik Eklund have done an incredible job of capturing not only the blood and the tension, but also the humor and the everyday awkwardness that can only take place at a Swedish conference. And the cast is better than I could ever have imagined", says Mats Strandberg.
Patrik Eklund is directing the film. Eklund has previously directed series such as The Gambling Scandal (2022) and We Got This (2020) and the short films Finito (2021) and The Infection (2018).
"It is an honor to bring The Conference to the screen together with SF Studios and Netflix. With Mats Strandberg's unique novel as a model and a phenomenal cast, this film has all the potential to become a future classic. A very bloody, entertaining and gripping story about the unsung anti-heroes of the public sector", says director Patrik Eklund.
Based on the book The Conference by Mats Strandberg
Director: Patrik Eklund
Starring: Katia Winter, Adam Lundgren, Eva Melander, Bahar Pars, Maria Sid, Marie Agerhäll, Christoffer Nordenrot, Amed Bozan, Lola Zackow, Claes Hartelius, Cecilia Nilsson, Jimmy Lindström, Martin Lagos
Scriptwriter: Thomas Moldestad
Production company: SF Studios
Producer: Ina Sohlberg, SF Studios