THE MONSTER IN THE NIGHT GIVEN TO CHILDREN IN 3RD GRADE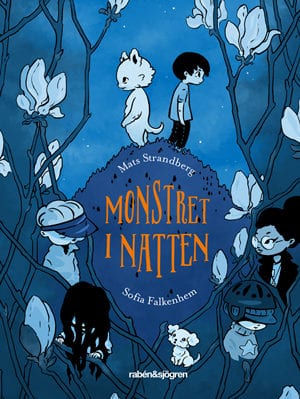 Mats Strandberg's and Sofia Falkenhem's wonderful book THE MONSTER IN THE NIGHT will be given to all children in third grade in Gothenburg.
During the National Children's Book week all 3rd graders in Gothenburg, 6 500 kids, will get a book gift from the City of Gothenburg. During the week the children can go to the local library and pick up their own copy of the book. The book is a personal gift to every child, and since all children get the same book, it is a terrific opportunity for the educators to discuss topics such as source criticism, diversity, fear, longing, empathy, friendship, comfort and courage.
Bodil Alvarsdotter, Children's book council at the City Library in Gothenburg:
It is with great pleasure we introduce this year's book. Mats Strandberg has written horror for grownups and really knows how to tell an exciting story. Sofia Falkenhem's pictures really suits the story of Frank wonderfully, with their blueish, somewhat mysterious tones."
Mats Strandberg and Sofia Falkenhem:
"It's a great honour that our fluffy monster Frank has been chosen for this wonderful project. Especially since Frank himself loves to read books. For him, his books are his friends. But it is not a privilige that every child has. To help kids discover the joy of reading was something we worked at, both with text and pictures. We wanted the book to be open arms, inviting you, without making it unnecessarily difficult. At the same time, we wanted there to be lots of exciting things to discover both in the pictures and between the lines."