The Unlikely Murderer on Netflix!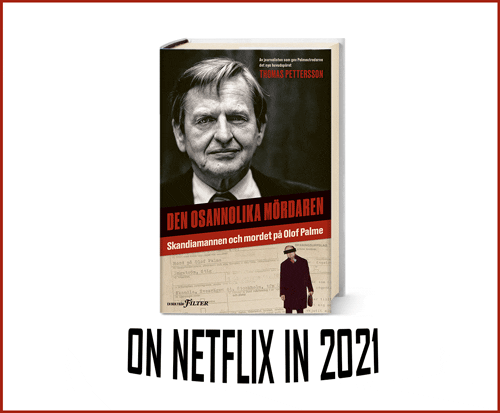 It has now become official that Thomas Pettersson's groundbreaking book The Unlikely Murderer will be a Netflix Swedish original series, produced by FLX.
Thomas Pettersson's incredible success The Unlikely Murderer will be on Netflix in 2021. The main character of the story, Stig Engström, will be played by the beloved Swedish actor Robert Gustafsson.
Netflix describes the series as "a fictional interpretation of how Stig Engström, the graphic designer who was pointed out as the likely offender of the murder of Olof Palme, managed to elude justice right up until his death, through a combination of audacity, luck, and the police's helplessness".
"I am truly happy that the story about 'the Skandia Man' is going to be a series on Netflix, it is a story where reality surpasses fiction multiple times. While doing my research it often hit me how perfect the story was for a dramatization, as a movie or a tv-series. Sometimes I almost had to pinch myself – how was Engström able to tell all his lies about what he did at the crime scene, and get away with it? Despite the fact that Engström was the first one to acknowledge to the police that the description of the offender described himself. I am especially looking forward to the actor Robert Gustafsson playing the main character Stig Engström. Robert Gustafsson is the right person to depict Engström's complex personality. He also has a personal relationship to the murder since he was at the same movie screening as Lisbeth and Olof Palme right before the brutal incident", says Thomas Pettersson about the news.
Wilhelm Behrman and Niklas Rockström have written the script, previously known for shows such as Kalifat and Before We Die. Swedish-French director Charlotte Brändström, previously known for directing The Witcher and upcoming Jupiter's Legacy for Netflix, will be the conceptual director of The Unlikely Murderer.
"This touching and challenging case has fascinated people both in Sweden and the rest of the world for over 34 years. That is why we are very happy to bring Thomas Pettersson's book to life together with our long-lasting partners at FLX. With Charlotte as the conceptual director, and the script by Wilhelm and Niklas, we have a really strong creative team and I look forward to introducing this Swedish series to the world", says Tesha Crawford, Director Nordics Original Series at Netflix.
We can't wait for the premiere in 2021!