Wonderful review for Jan-Erik Fjell in Swedish newspaper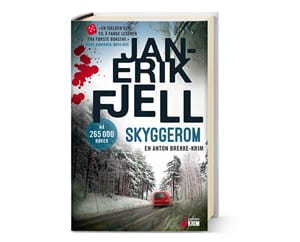 2017-10-05
The second installment in Jan-Erik Fjell's crime series about superintendent Anton Brekke, The Shadow Room, was just released in Sweden and received this great review:
"The Master of crime subplots. He never forgets any threads, not ever lets them get lost. After just the right number of pages, the important little details or the crucial clues reappear, and just a little closer to each other.
There are also individual scenes that deepens the characters and become stories within the novel … Fjell handles these short stories so they both complement the main plot and become entertaining and ingenious by themselves.
Sometimes brutal, violent and bloody. Just enough to show the reality – nothing more. Because The Shadow Room does deal with reality, doesn't it? This could really have taken place? Perhaps it's happening right now? As Fjell notes in the afterword when thanking the police who helped him with the research. "A lot of things were so shocking that I chose not to write about them."
If I could (but I cannot), I would nominate The Shadow Room by Jan-Erik Fjell to The Swedish Academy of Crime Writers' Award for this year's best translated crime novel."
Trelleborgs Allehanda