SILENT WAR (De otrogna)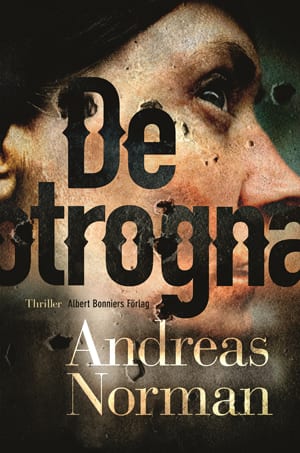 "And a man's enemies will be those of his own household."
Matthew 10:36
As a Swedish spy in the centre of Europe Bente Jensen knows what it means to live a lie. When she discovers a dark secret in her own family, her life falls apart. And the secret reveals an even greater threat.
War rages in Syria. Jonathan Green works in the British MI6 and heads an undercover operation to change the future of the war and the power balance in the Middle East. At the same time, he's deeply involved in a betrayal on a much more personal level. When their lies are revealed and silences are broken Bente and Jonathan meet in a silent war where the one you love most might be your greatest enemy.

Silent War is a clever and entertaining thriller about lies and power, betrayal and love. It has an innovative style, combining the spy thriller with domestic noir in a moving tale of private betrayal and professional deceit Bente Jensen, the main protagonist in Norman's thrillers, faces troubles in her family, while she at the same time uncovers a dark truth about a British covert operation no one wants to acknowledge. As Bente is to realize, treason begins at home.
RIGHTS

Czech Republic: Euromedia
Estonia: Hea Lugu
Sweden: Albert Bonniers
The Netherlands: Karakter
Slovakia: Ikar
UK: Quercus (WER)
US: Mobius Books
FILM RIGHTS

Anagram Film, Sweden
REVIEWS 
"Norman is an innovative stylist: the fast-paced narrative, fluently rendered in translation by Ian Giles, is written in the third person present tense with an omni­scient narrator. This brings a sense of intimacy that is almost claustrophobic, especially at the roller-coaster climax."
Financial Times / USA
"A powerful indictment of contemporary espionage techniques in the West's ongoing conflict with terrorism. This propulsive, thought-provoking thriller will leave readers pondering the bedeviling eternal question: should evil ever be done so that good may result?"
Publishers Weekly / USA
"Andreas Norman takes readers deep inside the minds of killers, terrorists, heads of intelligence services and one woman named Bente Jensen who faces more than one demon, more than one injustice and must find a way to combat and overcome her own SILENT WAR!"
Just Reviews / USA
"With a credible plot and believable characters, this is a high-tension thriller of dirty tricks and calculated revenge."
Choice Magazine / UK
"This impressive novel shifts between Brussels, London and Syria in a horrifying and moving exploration of different kinds of betrayal."
The Literary Review / UK
"The writing is crisp, the action fast paced, the plot and psychology convincing and the subject matter both credible and contemporary."
Shots crime and thriller enzine / UK
"Morally complex, this politically charged novel puts Sweden at the centre of international espionage. Focus on the tragic consequences of private and public decisions, and shatter the image of Scandinavian impartiality regarding Middle Eastern violence. The excellent translation by Ian Giles, which catches both nuances and hard facts, plus the fast-paced narrative, which heads at breakneck speed towards a conclusion that will leave many reeling over the mind games those in power play, make The Secret War a truly modern spy thriller."
European Literature Network / NL
"This is a great book. Andreas Norman way to handle the language is fantastic and he has an ability to portray people and environments in a completely, completely convincing manner. He is well on track to become Sweden's John Le Carre."
SVT / SWE
"One of the crime novels you shouldn't miss this Fall. Andreas Norman has worked in the Ministry of Foreign Affairs and you can tell, he really knows what he is writing about when describes the twist and turns of international politics when the paths of a Swedish and a British spy cross in Brussels."
Dagens Nyheter / SWE
"The language is outstanding … Silent War is thrilling all the way."
Göteborgs-Posten / SWE
"Without doubt, this author is among the best authors in the world in the genre international thrillers."
Nisse Scherman, crimeblog / SWE