STOCKHOLM Grotesque (STHLM Grotesque)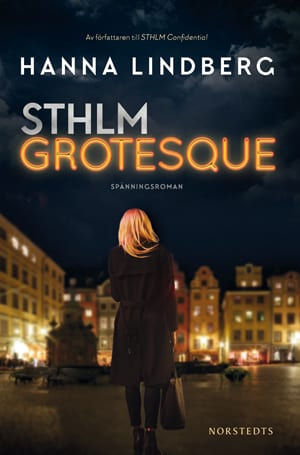 STOCKHOLM Grotesque is a stand-alone sequel of STOCKHOLM Confidential, Hanna Lindberg's internationally acclaimed debut. Now the arena is the sparkling gastronomic world where the pursuit of status overshadows everything else. People may even be prepared to kill to achieve their dreams.
The Golden Chef is the event for anyone with a position in the prestigious gastronomic world. Journalist Solveig Berg is at the gourmet palace Stockholm Grotesque for this year's gala. Everyone predicts the winner of the award to be either Florian Leblanc or Jon Ragnarsson – the star chefs that used to be partners. As the winner is announced, the light goes out and a gunshot is fired towards the stage.
When the police investigation seems to focus on the wrong track, Solveig is forced on a dangerous search for the truth. She is confronted with dark forces behind the closed doors of luxury restaurants, but also with her own past. The deeper she digs, the more dangerous it becomes.
Scandal photographer Lennie Lee is back in Stockholm after three years. He has just been released from prison and has hit rock bottom. But through his well thought idea to invest his last savings on a Foodtruck, Lennie is convinced he will be back at the top.
450 pages
RIGHTS
Czech Republic: No Limits
Finland: Storytel
Germany: Goldmann
Italy: Longanesi
Latvia: Lauku Avize
Lithuania: Media Incognito
The Netherlands: Meulenhoff Boekerij
Poland: Edipresse Książki, Storytel
Sweden: Norstedts
BLURBS
"The restaurant industry has never been more fascinating. Or more scary than in Stockholm Grotesque. Hanna Lindberg is a master of intrigues, and I read the book without putting it down, while enjoying all the crazy, passionate and fatal characters that populate the well-written pages."
Mons Kallentoft
"Murder on a first class restaurant – a fast paced and suspenseful thriller just the way I like it."
Sofie Sarenbrant
REVIEWS
"A real page-turning thriller"
Il Messaggero / IT
"It investigates the kitchens of starred restaurants and shows them to the reader in a disturbing way. It's an entertaining and exciting thriller that unveils secrets and shadows of the haute cuisine's world. It's a glitzy and aromatics reality, but also a ferocious and competitive one."
Tuttolibri / IT
"It keeps the reader glued to the pages until the end."
Leggo / IT
"An astonishing plot. Every chapter is packed with rising tension that culminates in a grande finale. The curt writing style together with essential dialogues make the readers think to other important Scandinavian authors like Henning Mankell, Zepeda Patterson and Stieg Larsson, but the novel has the structure of the classic murder story"
Donna Moderna / IT
"Hanna Lindberg delivers a story with many layers in a high pace and with a thrilling finale."
Journalisten / SWE
"As a reader, you are immediately drawn into the game about Stockholm's gastronomic world. The intrigue is dense, the pace is high and the finale is perfect for the big screen."
Nya Kristinehamnsposten / SWE
"I like Hanna Lindberg's satirical tone of hipster life and pretentious food … However, the most important thing, she writes suspenseful books."
Borås Tidning / SWE
"Thrilling depiction of the exclusive restaurant scene … the protagonist gives positive Annika Bengtzon vibes."
Amelia / SWE
"Extremely thrilling, well-written and captivating."
Jenniesboklista /SWE
"Suspense, clever intrigue and interesting characters! 5 of 5."
Boktipset.se / SWE
"One of the best suspense novels so far this year."
Läsa & lyssna / SWE
"Stockholm Grotesque is a really entertaining and thrilling book with high pace and I'm really looking forward to the next book in the series."
Boklysten / SWE
"A real page-turner … It's thrilling from the very beginning."
Nadines bokhylla / SWE
"I recommend it to everyone who likes Swedish thrillers."
LexieLäser / SWE
"A real page-turner that lets the reader into the captivating but tough restaurant world in the pursuit for truth."
Bokmalin / SWE
"Both books are true page turners, and although they can be read independently, it's even better to read them both, in correct order. Solveig Berg is an interesting character, and she is the classic "curious-journalist-who-gets-in-over-her-head", a proven concept. Perfect reading to enjoy after Christmas dinner or another great meal!"
Johannas Deckarhörna / SWE
"The environments are well drawn, the characters vigorous and the whole story entertaining."
Dast Magazine / SWE
"I'm hooked from the first page. 5 out of 5."
Malinbooknerd / SWE
"This book is good, really good. High level suspense all through."
Bokdjungeln / SWE
"Both the characters and the environment are well depicted and Hanna writes with both credibility and a forward drive."
Olivias deckarhylla / SWE
"A wonderful book that really should become a movie."
Gizzy.se / SWE
"I strongly recommend it. Anyone who hasn't read it yet, do it! A book that contains nerve wrecking suspense, tentative love and complicated friendship. 5 out of 5."
Millahs Bookpage / SWE