STOCKHOLM Confidential (STHLM Confidential)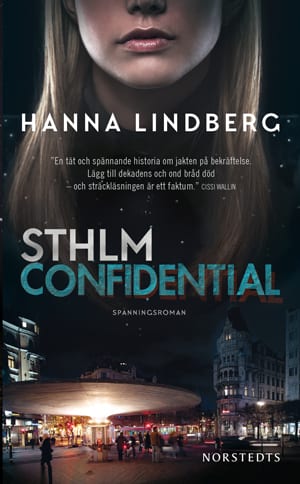 STOCKHOLM Confidential is a constantly entertaining thriller that unfolds among the glitzy gourmet restaurants and troubled magazine world. The book is about the race for celebrity and love in contemporary Stockholm. Who can you really count on in a game without rules?
Lennie Lee runs a successful scandal magazine, owns a luxury apartment at the right address and is constantly surrounded by beautiful women. But suddenly something happens. The edition falls. The friends turn away. Everything points inexorably downwards when he is asked to arrange the party of the century for a extravagant businessman with a criminal past. The money he'll make on the party will be enough to solve all his problems – if he pulls it off. And if he survives.
Solveig Berg is a young journalist who went too far in search of a scoop, lost her job and ended up in the cold. She now works as a waitress in a sloppy hamburger joint. The emptiness and loneliness bring back dark memories and she will do anything to get back to her former life. Her blog is her hope. But to be honest, it is mostly filled with gossip and quirky videos of cats.
When the glamour model Jennifer Leone is found dead, Lennie's and Solveig's paths cross and a nasty chain of events takes off.
345 pages
RIGHTS
Czech Republic: No Limits
Estonia: Eesti Raamat
Finland: Storytel
Germany: Goldmann/Random House
Italy: Longanesi/Mauri Spagnol
Latvia: Lauku Avize
Lithuania: Media Incognito
The Netherlands: Meulenhoff Boekerij
Poland: Edipresse Książki, Storytel
Spain: Roca Editorial
Sweden: Norstedts, Pocketförlaget
REVIEWS
"Lindberg knows how to plan a grande finale."
Trouw / NL
"Reading tip!"
Libelle / NL
"Swirling and filmic written debut that makes one long for more."
Zin / NL
"Almost nothing is what it seems."
AD / NL
"The pen of the young Hanna Lindberg is truly excellent. The narrative rhythm is strong and pleasant, insistent enough to make you want to keep reading without stopping. The original story shows the reader another side of Stockholm city, different from what we are used to. A Stockholm that behind the lights and culture, hides secrets and mysteries, intrigues and blood. A city that is inhabited by ruthless, cold as ice characters in their decisions. Definitely recommended."
Gli Amanti dei Libri / IT
"Nothing but extraordinary, both for the excellent narrative skills of Lindberg and for the plot that surprises and its originality. 5/5"
Reading at Tiffany's, book blog / IT
"A really good thriller. Rating 5 out of 5."
LexieLäser, book blog / SWE
"STOCKHOLM Confidential is a good start for a new series, that shows great potential already from the beginning. I'm already looking forward to the sequel."
papierundtintenwelten.blogspot.de / DE
"Contemporary and thrilling start of a new Stockholm series […] A new, fresh author, a great writing style, captivating story, interesting characters."
AUSGEbuchT, blog / DE
"Hanna Lindberg is going to be the new star of Scandinavian thriller. In her novel there is a multiplication of characters and deaths, of surprise effects, of games among appearances and truths which constantly floor (wrongfoot) the readers."
Corriere della Sera / IT
"The story is packed with grace and you read to the end, with some not bad twists. Hanna Lindbergcertainly writes about things he knows well. Reading it is a good way to start the year."
Amica Magazine / IT
"The narrative is engaging, the plots are really "smart" asthe continuous twists … Hanna has really amazed me, this is her first novel and in my opinion has already fully center. I can't wait to read her next! A very good book to start 2017!"
Thrillernord / IT
"Lindberg found the right pace for her first novel, building her protagonist in an original way, as well as the supporting actors. Among all, the ambiguous Lennie, who despite his apparent selfishness and a big scary secret and his clumsiness knows how to play the game to get the things he wants."
Thrillercafe.it / IT
"I love the way that the characters are built … A perfect novel for lovers of mystery and suspense told in a peculiar and different style."
Enredados en Palabras / ES
"The book reminds a little bit of both Jens Lapidus' books as well as The Millennium series by Stieg Larsson. One can tell that Lindberg is well read, knows journalism well and has turned to a number of people for research. It is hard to believe that this is Hanna E Lindberg's debut. Both the plot and the style and language are skilfully mastered. The excitement is there until the final pages."
Pocketblogg, blogg / SWE
"A dense and exciting story about the quest for instant recognition. Add decadence and sudden death – and the page turner is a fact."
Cissi Wallin / SWE
"The strength of Lindberg's novel is the plot. It is a well constructed story that is perfectly unpredictable and that contains several interesting twists and turns."
Crime Garden / SWE
"A very entertaining thriller."
Bokpar / SWE
"Action packed, exciting and at the same time entertaining."
Jennie's boklista, Rating 4 out of 5 / SWE
"It's hard to believe this is her debut. It feels so professional in every way, that I find it hard to believe that this is Lindberg's first novel."
Boktanken / SWE