The Totally True Story About the Centaur Who Wanted to Come Home for Christmas (Den helt sanna julsagan om kentauren som ville hem)
Mats Strandberg
Illustrations by Sofia Falkenhem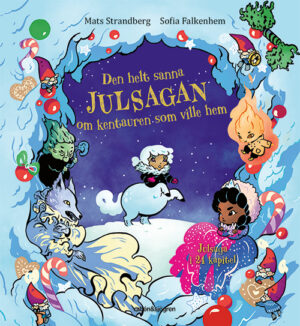 It is the 1st of December and the snow has just started to fall. Through the cold night, Ken Taur gallops on his way home to the centaurs' secret kingdom. He has been away from his family for a long time, but he is determined not to celebrate one more Christmas without them. If only the road hadn't felt so long, if only the darkness had not been so deep, if he just hadn't been so very, very alone …
But Ken will not be alone for long. On the way he meets several characters from the world of fairy tales, and he learns that one should not believe in everything one reads.
First he tries to save a princess, sitting alone in a castle surrounded by thorns. He realizes it is Sleeping Beauty, but it turns out that the princess does not want to be saved at all. She has actually let the prickly bushes grow up, to shut out intruders, after a prince once came and kissed her when she was sleeping. The fairy tales have taught Ken to be afraid of witches, but when a witch saves his life, he has to take a different stand. Especially when he learns that she is homeless because Hans and Greta have eaten her house. Ken makes many friends along the way, and they follow him on the way to the centaur's secret kingdom, just below the Polar Star. They find out that Little Red Riding Hood has made a fortune by spreading lies about her grandmother and the wolf.
But worst of all, someone seems to have kidnapped Santa Claus in order to take all Christmas presents …
The Totally True Story About the Centaur Who Wanted to Come Home for Christmas is published in Rabén & Sjögren's series Advent Calendar books. Each year in October a calendar book is published and Mats Strandberg and Sofia Falkenhem has created a story for the whole family. With 24 chapters, one a day, the wait for Christmas will be a little bit more bearable for young and old Christmas lovers. The book about Ken Taur is an exciting, thought-provoking and evocative story about friendship, homesickness and how difficult it can be to distinguish stories from truth. And just like in the Frank the Monster Trilogy, Sofia Falkenhem has made the characters come alive with beautiful illustrations.
100 pages
Rights
Norway: Omnipax
Sweden: Rabén & Sjögren
Reviews
"The best Christmas books for children 2019: An an exciting fairy tale with twenty four unexpectedly fun chapters."
Dagens Nyheter / SWE
"This is an exciting and entertaining story where Mats Strandberg who, as alwaysy manages to weave in important messages..This time it is the question about what is true and what is false."
BTJ / SWE
"Mats Strandberg's advanced ideas about exclusion and truth never come in the way of the story. Instead, they are the foundation in an oddly fun and extremely warm Christmas story and wild adventure. The illustrations by Sofia Falkenhem are way more skilful than what we are used to in children's books. This is a fairy tale you will read to your children and grandchildren for Christmas many, many years ahead."
Folkbladet / SWE
"And exciting and energetic story that can be enjoyed by many age groups"
Avisa Nordland /NO
"A fun and exciting book for children, that also has a lot to offer the reading grown-ups. It's built on the familiar, but turns our expectations inside out."
NRK / NO
"Like colorful fireworks"
Dagbladet / NO
"A fun family reunion"
Aftenposten /NO
"A really exciting, fun and speedy advent's book with the added bonus of being very though-provoking. 5/5 "
Romeoandjuliet /SWE
"With the book in my hand, I can say that it lived up to all my expectations and more."
Nilmas bokhylla (blog) /SWE