VEI – BOOK 1 (VEI – BOK 1)
Sara B. Elfgren & Karl Johnsson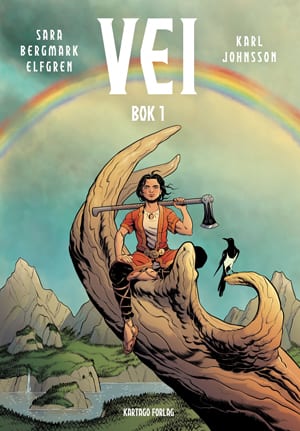 Vei – an epic story inspired by Nordic mythology. 
An unconscious woman is floating in the sea. She is found by Vikings in search of Jotunheim, the land of giants. The woman's name is Vei and soon she is drawn into a bloody battle between giants, Norse Gods and humans. Who can she trust?
Sara B. Elfgren and illustrator Karl Johnson have worked very closely with the story as well as the images. The duo has found inspiration in the characters of Nordic mythology, and let them inhabit a universe where the Scandinavian Bronze Age villages meet Babylonian architecture. The result is a unique Swedish series, which the creators describe as "Nordic mythology meets Game of Thrones meets Gladiator".
140 pages
RIGHTS
Brazil: Faro Editorial/Poseidon
Czech Republic: Nakladatelství Zanir
Denmark: Cobolt
France: Ankama
Norway: Egmont
Poland: Sonia Draga
Sweden: Kartago
USA/UK: Insight Comics (WER)
LEV GROSSMAN ON VEI:
"Even if, like me, you have a lifelong obsession with Norse myths, I promise you you've never seen them like this – this strange, this vivid, this real. VEI takes the whole Norse cosmos and turns it on its head and brings it back to life in one stunning masterstroke. You cannot miss it."

MIKE CAREY (Lucifer, The Unwritten) ON VEI:
"A mythic tale that feels both faithful to its sources and enthrallingly original. Wonderful stuff!"

REVIEWS
"Elfgren and Johnsson's epic is an inventive and captivating contribution to Scandinavia's rich tradition of reinterpretations of Norse mythology. It is through works like Vei that the vikings' wild tales are kept alive."
Weekendsavisen / DK
"a masterpiece is born (..) could be the best comic of the year"
6/6 Serieland.dk /DK
"This isn't a simple hack and slash sword and sorcery adventure, this story has some real depth to it."
5/5 – Comic Crusaders / USA
"It is easy to see how VEI sparkled a loyal following. Artist-writer Karl Johnsson and co-author Sara Bergmark Elfgren have brought to life something truly fun and original. They have created something very special and, thanks to Insight Comics, we have it all collected in an impressive hardcover edition….This is, no doubt, Sword & Sorcery at its best."
Comics Grinder / USA
"a book which becomes a Norse legend in its own right."
Geek Vibes Nation / USA
"10/10 (…) This book is gorgeous! The characters are beautifully designed and rendered, and the colouring is excellent! (…) I'm very eager for the next volume!"
Sequential Tart / USA
"This book has it ALL! Warrior Women, Vengeful Gods, Vikings, Giants, Monsters and MORE!! Plus, the art is stunning."
@heroesonline /USA
"I was really enthralled by the story (…) The illustrations are beautiful and strange"
Geekdad.com /USA
"A fantastic read from the first page to the last."
5/5, Geekninjas.se /SWE
"The most visionary and rewarding comic based on Norse mythology since the Danish classic Valhall"
Dagens Naeringsliv / NO
"Powerful, elegant and exciting Norse fantasy from Sweden."
Empirix.no / NO
"Read and enjoy the creators' wonderful twists on the familiar myths. (…) everything is fabulously drawn and told. Kudos to the brilliant creators of this comic, and we look forward to the adventure's end in volume two."
Serienett.no / NO
"an absolutely amazing book. Exciting from the beginning to the end (…) The characters feel completely real"
6/6, Noras bokblogg
"Expressive and lively figures feel grounded to believable locations however wild and fantastical they may be. (…) Johnsson's color sense is truly beautiful with his selection of palettes tailored to enhance the emotional impact of Elfgren's script. All of it comes together to create a sense of epic wonder."
gayleague.com
"Wonderful Swedish landscapes are interwoven with the unearthly views and buildings of the giants' world. (…) I'm looking forward to the continuation of the adventures of Vei."
Herozone / PL
"Sublime, saturated with mythology, mystery and adventure it easily transports us to the land of stormy seas and mythical Scandinavian characters. (…) Reading this comic book has brought me great pleasure and I will enjoy immensely following the history of the brave Vei in the next volume. 8,3/10"
Poważna Strona / PL
"Vei – book 2 will be out next year. I can hardly wait."
Expressen / SWE
"An unmissable and thrilling read."
Litteraturmagazinet / SWE
"One is immediately drawn into the story and the pictures, which are colourful and detailed. This is a page turner that is over way too fast."
Wermlands Nya Tidning / SWE
"I'm blown away by how beautiful Karl Johnsson's illustrations are."
Gefle Dagblad / SWE
"Vei sets a new standard for Swedish adventure comcis."
Oskarshamns-Tidningen / SWE
"The combination of Norse mythology and multifaceted characters, complex and skilfull world building and text and image in perfect harmony, makes a striking whole."
Prokrastinatorn.se, blog / SWE
"This is, without a doubt, one of the most visually appealing comics I have ever read. (…) I want to pause at every panel and savour the details. At the same time I'm so compelled by the story that I have to read on.
Spelameddavid.nu / SWE
"This is magnificent and epic fantasy!"
Bokboxen / SWE
"It is never the leaders that sacrifice their lives, neither in stories about gods, nor in today's warlike world (…) The story highlights religious blindness, and the responsibility of leaders and every individual, but there is also humor provided by characters like the spoiled and very teenagey princess of the giants."
Göteborgsposten / SWE
"This is really Game of Thrones meets Gladiator. And in the middle of it all stands Vei, as down to earth and different type of hero. Very exciting."
Bokblomma / SWE
"An impressive adventure comics inspired by Norse mythology. A thrilling and skilfully told story."
minabibliotek.se, blog / SWE
"Without hesitation I appoint Vei – Book 1 one of the best graphic albums of 2017. (…) It is so wonderful to see the fruit of a work so full of love and great imagination. 5 out of 5."
Shazam / SWE
"Complex and thrilling."
Arbetaren / SWE