COMEDY QUEEN WINS THE CRYSTAL BEAR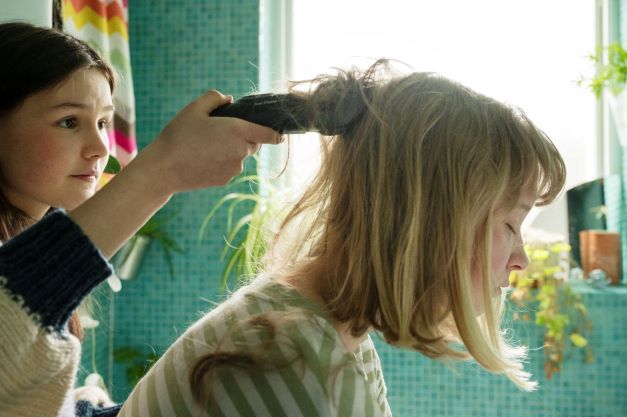 We are beyond proud that COMEDY QUEEN has won the prestigious Crystal Bear for Best Film in the Generation Kplus section at the 72nd Berlin International Film Festival. The family drama is directed by Sanna Lenken and based on Jenny Jägerfeld's acclaimed novel of the same name. 
The statement from the Children's Jury says: "A great protagonist, powerful and vulnerable at the same time, provided us with her captivatingly told, bittersweetstory of loss, grief, anger and healing. This film was a rollercoaster ride full of emotions: sometimes sad, sometimes funny, sometimes embarrassing. The music was always most appropriate and appealing. The camera was occasionally stable, yet also shaky. In a word, the film was superb. "
Director, Sanna Lenken says: "I am very happy, and delighted that the film has come across. And now my first Crystal Bear gets a friend!"
"We are so thrilled that Comedy Queen is being awarded with the Crystal Bear for Best Film at the Berlinale! And to be recognized by a jury of children and youths is especially honouring" says Anna Anthony and Rebecka Lafrenz, producers of the film for FLX.
COMEDY QUEEN was released locally on February 11th to impressive reviews, as local media praised the film with phrases as:
"A modern classic" (Dagens Nyheter)
"A solid hit" (P4)
"Incredibly life affirming" (Moviezine)
"The best Swedish film in a very long time" (Expressen)
"Superb acting" (SVT)
"Warmth and humour. Sigrid Johnson is absolutely phenomenal" (SVD)
Synopsis
Sasha is just 13 years old and wants nothing more than to become a stand-up comedian. She wants to make everyone laugh, especially her father who cries in the shower when he thinks no one is listening. Everything at home reminds her of
her mother who no longer lives, and behind Sasha's eyes the life-threatening tears burn. But she refuses to mourn. She secretly writes a list of everything she has to do to survive – shave her hair, stop reading books, say no to the world's cutest puppy and above all – become a Comedy Queen. The main role Sasha is played by Sigrid Johnson ("Maria Wern", "Tusen år till julafton"), Sasha's father Abbe is played by Oscar Töringe ("Thin Blue Line", "My Dad Marianne", "Top Dog") and in the role of Sasha's bestie Märta we see feature film debutant Ellen Taure. Producers of the film are Rebecka Lafrenz, who previously produced "Bert's Diary" (2020), "Cockpit" (2012) and was awarded the Guldbagge Award for "Sebbe" (2010), and Anna Anthony, who previously produced "Jalla! Jalla!" (2000), "In a Better World" (2010), "Becoming Astrid" (2018) and "Zozo" (2005), for which she received the Nordic Council Film Award. Executive producers are Joshua Mehr and Pontus Edgren.
COMEDY QUEEN is produced by FLX in co-production with Film i Väst, SF Studios and SVT and with support from the Swedish Film Institute and Nordisk Film & TV Fond. SF Studios is distributing the film in the Nordics and REinvent International Sales handles international sales. The film premiered in Swedish cinemas on February 11th 2022.