COMEDY QUEEN (COMEDY QUEEN)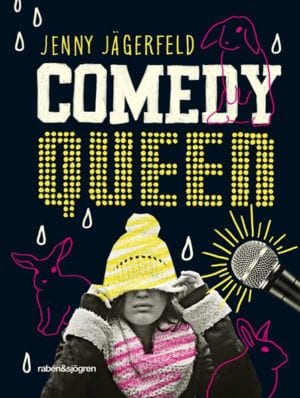 My mom made people cry. She still makes people cry, even though she isn't even alive. Sometimes when my dad takes a shower, I can hear he is crying. I guess he thinks I can't hear. But I do. That's why I'm never going to cry. Never! And I'm not going to make people cry either. I'm going to make people laugh. That's my mission!
Sasha has just turned twelve. The atomic number of magnesium. Her mom used to say that some people have funny bones. It's like they are funny all the way into the skeleton. Then there are those who can learn to be funny if they practice. There is also a third kind of people that are not fun at all, no matter how much they try (Cecilia, Sasha's teacher, is probably one of those). Sadly, Sasha suspects she doesn't have funny bones, but she has a plan: she IS going to be a real comedy queen! And she's going to practice until every boring bone in her body is funny. If she only succeeds in making people laugh, maybe the other thing will disappear. That thing that lies behind the eyes and burns and threatens to fall down the cheeks in the form of – well actually – fatal tears.
Best children's book 2018, Swedish Radio's Children Book Award.
Shortlisted to the August Prize in the category "Best Swedish Children's and YA 2018".
214 pages
Rights
Azerbaijan: Alatoran
China: TB Publishing Limited
Denmark: Gyldendal
Estonia: Varrak
The Faroe Islands: Bókadeildin Føroya Læraraferlags
Finland: Otava
France: La Martinière Jeunesse
Germany: Verlag Urachhaus
Italy: DeA Planeta
Japan: Iwanami Shoten
Korea: Beautiful People
Latvia: Latvijas Mediji
Lithuania: Alma Littera
Macedonian: Feniks
The Netherlands: Ploegsma
Norway: Gyldendal
Poland: Stara Szkoła
Russia: Albus Corvus
Slovenia: Zala Publishing
Spain: Gato Sueco
Sweden: Rabén & Sjögren
Turkey: Domingo
Film rights
FLX Film/SWeden
REVIEWS
"Why read? For pleasure, for knowledge, for joy, but most of all to widen the world, and as the slogan of the libraries reads, "give the soul wings", of course. But far from all books, convey that feeling. Therefore, once you come across one of those strong reading experiences, it brings a feeling of euphoria. Like Jenny Jägerfeld's new middle grade novel Comedy Queen, a book which broadens the world, and in addition pulls us down to the depths of sorrow, to directly after swing the reader high up to the sky of laughter. Great art, in other words."
Dagens Nyheter / SWE
"This could have been a dark and hard-pervasive story, but Jenny Jägerfeld is a sensitive storyteller who knows exactly how to balance heartbreaking tragedy and neck-breaking comedy. As a reader, you enjoy her verbally exciting, almost physical prose, and you move between laughter and cry as you follow Sasha's progress with her gallows humor. In our modern society, we have a hard time showing grief and are often perplexed when we need to take care of others – especially children – who are affected by grief. Jenny Jägerfeld has written an important book, which will mean a lot to many."
Svenska Dagbladet / SWE
"Those who do not cry through the laughters at Jenny Jägerfeld's fragile and self-confident Sasha, they must have a heart of stone."
Göteborgsposten / SWE
"Jenny Jägerfeld is undoubtedly one of our absolute best authors of children and YA literature."
Expressen / SWE
"A fantastic book about sadness and grief and how one can move on after the most horrible thing has happened."
Ny Wermlands Tidning / SWE
"This is one of this spring's very best books. The reading hurts, but will also make the reader laugh out loud."
Vi läser / SWE
"There is probably no other children's book author today who can write about the most difficult topics in such a brilliant way as Jenny Jägerfeld does. She constantly balances, and completely masters, on the lines between the serious and the easy-going, between the fun and the sad, and it's incredibly touching without being too heavy for that matter. Jenny Jägerfeld talks about one of the most difficult topics in a way that makes the reader both cry and laugh, and to feel with Sasha to the extent where it hurts, yet never want to put the book away. Comedy Queen may be this year's most important book, and I think it, as well as her previous book, Top Bro, will save lives."
Elilaserochskriver, blog / SWE
"Oh Jenny Jägerfeld, the best Jenny Jägerfeld! Is there any other author who is so good at switching between sadness and humor, which deals with the most difficult topics and writes about them in an accessible, humorous yet serious and deep way? Jenny Jägerfeld is one of the best children and YA authors we have today. She writes boldly, realistically and stands up for the voices that need it the most. Love this book."
Romeoandjuliet, blog / SWE
"Comedy Queen is the reason we adults should read children's books as well. That's how good it is! It's one of the best books I've read lately. And then I mean of all books, not just children's books. Jenny Jägerfeld blends the most wonderful humor with the darkest of darkness. One second I laugh out loud and the next tears are pooring down my cheeks. It's a nice depiction of how difficult it is when one's parent commits suicide. It's also a great book to help talk about this. "
Boktokig, blog / SWE
"Strong, moving & fun!"
Jenniesboklista, blog / SWE