SPARKLE, DAZE, AMAZE (BLIXTRA, SPRAKA, BLÄNDA!)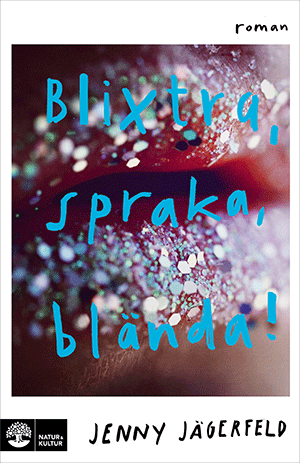 Allow us to present Penny Löwe, the literary wonder kid who, at the age of twenty, wrote a novel which everyone spoke of and which won the most prestigious literary award in Sweden.
Once a shooting star, Penny is now back from a decadent stay in London, without ideas for the new novel and broke after spending the whole advance. The creative trip she imagined it to be, did not go as planned.
But her friend Lola comes up with a solution. She will help Penny find her inspiration again. Together they construct an equally unconventional as life-threatening plan. Who is Lola – a gift from above or a muse from hell?
SPARKLE, DAZE, AMAZE is an entertaining, fast-paced and playful novel about destructive friendships, writer's block and the pursuit for the "genuine literature". Combining quick-witted prose with psychological depth Jenny Jägerfeld brings the reader on an expedition of identity, authenticity and autofiction's role for the contemporary novel: must a writer have lived to write?
520 pages
Rights

Sweden: Natur & Kultur
Film rights
B-Reel
Theatre rights
Folkteatern Göteborg, Sweden
REVIEWS
"The clock shows 23:45. I just have to read a few more pages. Next time I look up, time is 03:20 and I have finished Jenny Jägerfeldt's new novel Sparkle, Daze, Amaze in less than twenty-four hours. The explosive title and the glossy cover feels just right for this story that hits me in over 120 km/h. I'm knocked out."
Nöjesguiden / SWE
"She [Jägerfeld] writes about symbiotic friendship, narcissism and boundlessness, she writes about power struggles and exposes the sore relationships between children and parents. The language is analytical and clear as crystal, the atmosphere is threateningly behind all the hilarious gambolling, the destructiveness is ruthless. Despite the darkness, the novel is attractively easy read. Jägerfeld points at the existential questions: How do you get to know yourself? What do you do when you fall? Do you want to get back up?"
Gotlands Tidningar / SWE
"Jägerfeld gets the language to speak of contemporary when she gives the word to her verbally talented protagonist whose inevitable sword is pure fireworks. It drives the action forward at a fast pace … Wise book – but not least, terribly fun!"
Arbetarbladet  / SWE
"Sparkle, Daze, Amaze is a fun-filled idea based on today's obsession of authenticity and truth and contemporary basic ideology that the self can be created and always improved by using self-help literature and twelve-step programs for training, friendship, sex and relationships.
Dagens Nyheter / SWE
"The novel shakes, rushes, quiver, splashes, bursts, flourishes, scorches, burns, pries, ruptures, and explodes into bitter cascades in a very dark and self-hating reality. It literary roars infinite vitality elegantly mixed with a sharp and yet distant observation that gives the depiction an overwhelming dark depth and a relief of unscrupulous tragedy."
Nerikes Allehanda / SWE
"Sparkle, Daze, Amaze is about young women trying to navigate in a contemporary time that requires both perfection and independence. The language cuts like a hot knife through butter."
Jönköpingsposten / SWE
"A fast-paced and intriguing novel about a derailed wiz kid. […] Jenny Jägerfeld writes extraordinary accurate and driven, even though she is dealing with burdensome topics, which makes you never getting bored while reading."
Upsala Nya Tidning / SWE
"(I love Jägerfeld's amazing imagination). Sparkle, Daze, Amaze has a psychological depth that deals with feminism, about creativity, and the destructive and boundless as well as magical friendship with Lola. It is about mental illness and about constantly seeking your own reflection in other people and about doing the right thing or doing what one wants. It is also about creativity and who owns the right to an artistic work. Yes, you understand – it is about many things. And at the same time it's heavenly humorous."
Litteraturkvalster, blog / SWE