I'M JUST SO-O EASYGOING (JAG ÄR JU SÅ JÄVLA EASY GOING)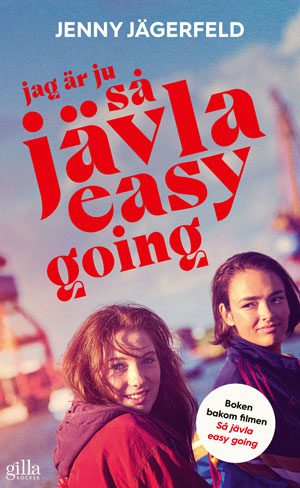 I'm Just So-o Easygoing is a novel full of black humor, action and surprising twists. A smart, verbal and not fully socialized young woman standing in the center.
Joanna's brain is like an amusement park at peak season, an analogue twitter. You could also call it ADHD, and as long as she eats her meds, it isn't a major problem. At least not compared to having a mother who is trying in vain to write a new novel, and a father who's apathetically sitting in front of the television all day. And not compared to not being able to afford new medicine. And therefore fooling a drug dealer on money. And to be caught and threatened with murder. Which is nothing compared to being in love. In Audrey.
256 pages
Rights
Denmark: ABC Forlag
Germany: Carl Hanser Verlag
Norway: Aschehoug
Sweden: Gilla Böcker
Film Rights
Cinenic Film, Sweden
REVIEWS
"Stylistic firework about Joanna who has ADHD. And parents who cannot afford her medicine. This drives Joanna to snatch a delivery from a drug dealer. Not too smart! Realistic action filled humor, if there is such thing. In any case, it is immensely fun to read."
Lotta Olsson, Dagens Nyheter / SWE
"Fantastic language. I feel joyous when I read this. Everybody should read it, both young adults and adults. Even grandma. Don't miss it."
Tara Moshizi, Go'Kväll (Swedish Television) / SWE
"Only a few know how to navigate so cleverly and smoothly between the big important issues, while still avoiding lecturing and moralizing. It never gets tiring, never sticky. It is a novel with outrageous drive, plenty of black humor and a pleasant ear. Jenny Jägerfeld must have been down with her ear to the ground and listened to the young people at some high school. It feels so authentic – and Johanna, she's just so-o likable – to speak Jägerfeldish."
Folkbladet / SWE
"An "emotionally overloaded" young woman. Equally intense in distress as in lust. A worthy protagonist in one of this year's best Swedish crossovers. With this sequel to her Hole in the Head and Me on the Floor, Bleeding Jenny Jägerfeld again consolidates the strength and solidarity of her linguistically disruptive ability."
Östgötacorrespondenten / SWE
"Jägerfeld writes hard, fast-paced and with a lot of black humor about an eighteen year old's dreams and dips. It is full of surprising encounters and concerns on social problems directly in the direct prose. / … / Towards the end, Jägerfeld manages to drill through the hard surface and allows the causes and effects to come together in unexpected ways."
Smålandsposten / SWE
"Her previous book received the August Prize Award in 2010. The reasoning was, inter alia, "a psychological portrait with particular credibility in the expression." The same praise are applicable here. Just like with the August winner, Jägerfeld's third novel has a teenage girl in the lead role. The chaos and absurdity of real life illustrate the chaos that might break out in Joanna. Jägerfeld is sharp both in her observation as well as in her writing skills. And a joy to read. Not many can as naturally as Jenny Jägerfeld portray serious issues with this much humor."
Göteborgsposten / SWE
"The key to this rich story is the way in which Jenny Jägerfeld lets the main character observe her environment. Swearing and sex words hail over the pages, but still without feeling glued there, but appear as a rather natural part of Joanna's drastic language and black humor. Rarely have we seen a Swedish novel with as much speed , drive and "go-get-them" attitude. It is sharp, cross and crazy at the same time."
Svenska Dagbladet / SWE
"With an unerring sense of humor, and by skillfully braiding sociological variables when she portrays the young Joanna's life, Jenny Jägerfeld once again raises the bar for how well written YA litterature can be. This combined with her ear for different youth cultures and the way she perfectly use the Swedish language, gives her her very own voice among the YA literature. The language and references in I'm Just So-o Easygoing stretches a bit over an ordinary teenager's world of experience, which could be a risk if you have a broad audience, but the author manages even this and on the contrary raises the curiosity and broaden the perspectives."
BTJ / SWE