MY ROYAL GRAND GOLDEN LIFE (Mitt storslagna liv)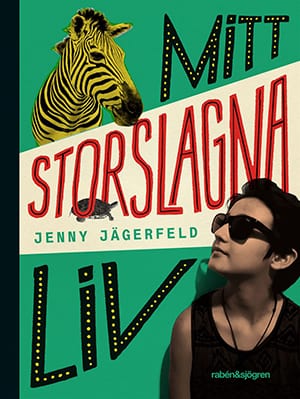 Mom has always said that I am "a unique person" that I am "different" and "special". I think it's just a kinder way to say "weird".
I had exactly sixty days to become a new person. Or, well, fifty-nine.  Then the summer break was over, and school would start. Obviously, it wouldn't be easy, but it was not impossible. If you can travel to the moon, one should be able to become popular? Or? I would find out exactly how.
Sigge and his mother and siblings have moved from Stockholm to the small town Skärblacka, to grandmother and her boarding house. Sigge thinks it's great. Now he can reboot himself and become a new person. The plan is to become immensely popular or at least be able to talk to people without them looking at him as if he is a freak. But how do you make friends? How to become popular? And above all: can you fix it in 59 days?
Jenny Jägerfeld is back with a story about loneliness and friendship, exclusion and popularity and about choosing who you want to be. Just as in her previous books, the critically acclaimed Top Bro! and August Prize nominated Comedy Queen, Jägerfeld writes an unforgettable story combining magnificent humor and important topics.
Nominated for The German Children's Literature Award 2022. 
Shortlisted for the Italian ORBIL Prize 2022.
Best children's book 2020, Swedish Radio's Children Book Award.
Shortlisted to the August Prize in the category "Best Swedish Children's and YA 2019".
327 pages
Rights
China: Shaanxi Future Press
Czech Republic: Dobrovsky
Denmark: ABC Forlag
Estonia: Varrak
Finland: Otava
Germany: Urachhaus
Italy: Iperborea
Korea: Beautiful People
Latvia: Latvijas Mediji
Norway: Gyldendal
Poland: Stara Szkoła
Russia: Albus Corvus
Sweden: Rabén & Sjögren
REVIEWS
"The dialogue is vigorous and playfully spiced, and it is liberating that it is an older woman who has been given the crazy character which is usually left for crazy fathers. My Royal Grand Golden Life is a funny book with a serious undertone […] Jenny Jägerfeld continues to be an important author for the hard to captivate middle age."
Dagens Nyheter / SWE
"My Royal Grand Golden Life meets most of the criteria for a feel-good novel; it is amusing, it has an original personal gallery, there plot is predictable and – thankfully, despite the pain and blackness found in Sigge's flashbacks from school, which breaks through the humor and coziness – it is also a feel-good happy ending. This says a lot about Jägerfeld's skills it arrives as a wonderful relief."
Göteborgsposten / SWE
"My Royal Grand Golden Life is a wonderful, fast-paced story. Jenny Jägerfeld writes in a very fluent way, rich in dialogue and with nice language. The portraits are colorful and vibrant, the environments very finely and elaborately drawn. The increasing intensity of the last third of the book takes a firm grip on the reader. Sigge's concern and excitement for the new is portrayed with tender care, great spirit and joyful storytelling. Overall rating: 5."
BTJ / SWE
"An unusually "usual" story by Jägerfeld, but with an unusually charming set of characters. It doesn't take long until you are totally hooked on Sigge's world with the turtle, an eccentric grandmother, loud younger siblings and the exciting Juno, who runs the website Blacka News. Fun, warm, emotional and cosy in the familiar Jägerfeld style."
Vi läser / SWE
"Jenny Jägerfeld is a talented storyteller. […] With fun details and vivid language, My Royal Grand Golden Life becomes an entertaining and great novel for its target audience. Also, how it puts words on many things that are difficult becomes a bonus."
Dagens ETC / SWE
"Warm, entertaining and serious about fitting in and still being true to yourself."
Gotlands Allehanda / SWE
"Once again Jenny Jägerfeld proves how brilliant she is. In My Royal Grand Golden Life, she incredibly well portrays children of different ages and the anxiety about doing things the right way, in order to become popular and make friends. She writes with the best kind of humor. It is a tender humor with a big heart. I laugh out loud several times. […] Jenny Jägerfeld blends seriousness and humor irresistibly. It is impossible not to love the joyous crazy grandmother and the younger sister who screams when she talks. It is amazing how you are thrown right into it all and then lovingly guided through the story and introduced to the different characters. There is so much to love about this book."
Boktokig /SWE
"Serious and extremely humorous about alienation, friendship and the love of one's family (even the non-human members) – regardless of how strange and odd it may be!"
Bokkoll /SWE
"Jenny Jägerfeld is a master at mixing up very serious themes with a great deal of humor. […] Jenny Jägerfeld is one of the absolute best Swedish authors for the middle age reading group, maybe even the best right now?"
Romeoandjuliet /SWE
"I laugh out loud several times while reading My Royal Grand Golden Life. The book is populated by characters to love. […] I rarely rate books I read, but if I did, My Royal Grand Golden Life would get top score. Read!"
Prickiga Paula / SWE
"It is a wonderful story about Sigge and his colorful family that goes straight to your heart. I love Jenny's frank writing style, which is funny without feeling constructed or artificial. It's just naturally funny. At the same time, it has a streak of blackness and scratches under the surface."
Villavonkansbooks / SWE