My Royal Grand Golden Death (Min storslagna död)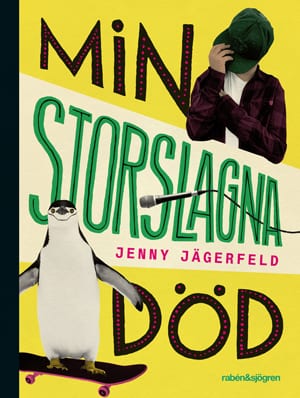 Since Sigge left Stockholm his life has been so much better! Gran's hotel, The Royal Grand Golden Hotel, Skärblacka, feels like home and no-one in school is mean to him. It gets even better when cool twins Sixten and Edward ask Sigge to join their hip-hop band, the 6-10 Spud, to perform at the school Christmas show. But the closer the concert gets, the more stressed out Sigge feels – the twins aren't interested in rehearsing or even writing songs!
Why is it so hard to have new friends and not let your best friend down? Is that the price for being popular – being someone you're not?
My Royal Grand Golden Death is the very much longed for continuation for Jenny Jägerfeld's august prize nominated and awarded for Best children's book of the Year by Swedish Radio, My Royal Grand Golden Life.
Nominated for the IBBY Honour List 2022
386 pages
Rights
Estonia: Varrak
Finland: Otava
Germany: Urachhaus
Italy: Iperborea
Norway: Gyldendal
Poland: Stara Szkola
Russia: Albus Corvus
Sweden: Rabén & Sjögren
REVIEWS
"Jägerfeld's story is like literary graffiti. Large wild thorns are interspersed with small, finely carved images. […] The cheeky, the rosy with an edge of grief, the comical, the reckless and non-moralizing, everything is addictive. At the same time, it is impossible not to get involved when Jägerfeld juggle truths and sways on the line."
Dagens Nyheter / SWE
"As usual, Jenny Jägerfeld skillfully writes a story at a high pace, filled with drastic humor and fantastically funny dialogue. But what is really nice, is how all the fun and fast-paced is rooted in a seriousness, and rests on what feels like a deep respect both for the reader and for the characters in the book."
Vi Läser / SWE
"She [Jägerfeld] has once again accomplished what few manage to do: written a not only multifaceted but also genuinely funny book."
Sundsvalls Tidning / SWE
"Do you like funny books that still have a serious plot? If so, this book is for you! It mixes common things like love and friend problems with humor. […] I think many people will like it because most people can relate to the plot. Everyone should read it, I can't think of anything that is bad!"
13-year-old Junior reviewer in Borås Tidning / SWE
"Jenny Jägerfeld has created a wonderful, joyfully told story, eventful and humorous. Sigge's home environment, with its eccentric personalities, lays the foundation for a fast-paced and very entertaining first half of the book. But when he betrays Juno, a seriousness enters the story, a greater depth that grows and enriches the story. The portrait of Sigge is lovely, tender and contains all emotional states. The gallery of characters in general is well portrayed, perhaps a little twisted at times; the environments are overall well captured. The language is very good, rich in dialogue and accessible. In addition to a nice, compassionate depiction of a 12-year-old's delusion, My Royal Grand Golden Death is also a very entertaining book."
BTJ / SWE
"The sequel to the August Prize-nominated My Royal Grand Golden Life is, if possible, even better. […] Jenny Jägerfeld has an outstanding ability to switch between seriousness and humor. Just the incredibly funny depiction of Sigge's family is worth every penny."
Aftonbladet / SWE