Welcome Nilla Kjellsdotter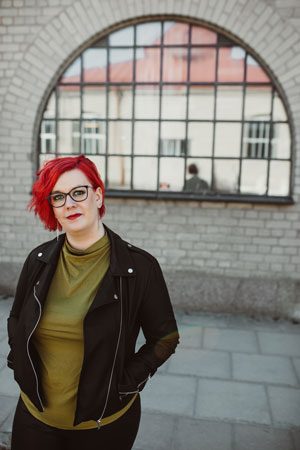 We are proud to welcome author Nilla Kjellsdotter to Grand Agency! With an impressive start of over 100 000 copies sold the first year – Nilla Kjellsdotter made an explosive and colorful entry on the Scandinavian crime scene.
The Mija Wadö series has had a successful start at the top of the bestseller charts in both Sweden and Finland. The Girl in the Stone Park won the Finnish Storytel Award 2023, as Best crime and suspense of the year, and was nominated in the same category of the Swedish Storytel Award 2023.
"It's so damn good and shows the author's care,  work and the amount of thought that she has put into the book series. The planning, continuity and, above all, the author's own patience with her writing is in those sentences, everything is carefully thought out right from the first book and now she pulls her ace out of her sleeve."
–  Österbottens Tidning 
Nilla Kjellsdotter (b. 1987) lives with her husband, two children and four cats in Finnish Ostrobothnia. She grew up in a farming family in a small village with about 350 inhabitants, but moved as an adult to the neighboring village, Oravais, where her crime series about Police Detective Mija Wadö is also set. Nilla Kjellsdotter is part of the Swedish-speaking minority of Finland and writes in Swedish.
Before she started working full-time as a writer, she worked part-time as a secretary at a law firm, and occasionally jumped in as a truck driver in her in-laws' transport company.
A warm welcome to Grand Agency, Nilla Kjellsdotter!