THE GIRL IN THE STONE PARK (FLICKAN I STENPARKEN)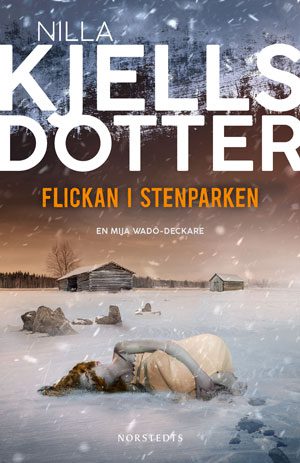 In the depths of winter, a teenage girl is found almost frozen to death at a local heritage site, also known as the Stone Park, in Oravais. She is badly injured, bearing scars from years of torment, and can barely speak. The mystery surrounding the unidentified girl thickens when it becomes evident that no one has reported her missing.
At the same time another case lands on detective Mija Wadö's desk: the popular diabetes scientist David Heselius has been found brutally murdered in his own home. But as his swanky house has been meticulously cleaned, no forensic evidence can be secured. The police are informed that Heselius' company was on the brink of a major breakthrough. Could this be the motive for his murder?
Mija Wadö is forced to take on extra responsibility when several of her senior colleagues are off duty. She misses one of them in particular: Ronnie, who is studying to become a dog handler. And to Mija's dismay, her vacation is postponed once again. While she tries to balance her personal life and the increasing workload, the investigation moves closer to her own life. The lorry driver who found the teenage girl, is he really who Mija thinks he is?
The Girl in the Stone Park is the first book in Nilla Kjellsdotter's crime series about Mija Wadö and her colleagues at the Ostrobothnian Police.
374 pages
Rights
Finland: Gummerus
Sweden: Norstedts
REVIEWS
"A perky debut with good environmental depiction and rare details"
Dagens Nyheter / SWE
"Ostrobothnian Nordic noir with a drive […] Kjellsdotter manages to mislead the reader and keep the suspense until the end."
Hufvudstadsbladet / FI
"Nilla Kjellsdotter delivers page-turner suspense"
Åbo Underrättelser / FI
"Nilla Kjellsdotter succeeds to surprise the reader in a classic detective novel style, she leads me astray and the resolution is completely different than I imagined […] Ostrobothnia has got its queen of crime and her name is Nilla Kjellsdotter."
Österbottens Tidning / FI
"This is a suspenseful tangle with an unknown girl who is found badly injured, a murdered diabetes researcher and a flashback that I never could have guess how it relates to the present. And when I finally think I've figured it all out, I get it wrong once again, much to my delight."
Upsala Nya Tidning / SWE
"unexpected perspective on the course of events […] clever double-braided story"
Arbetarbladet / SWE
"an intricate tapestry of murder and terrible family secrets, in an exciting environment"
BTJ / SWE