DOWN UNDER (DOWN UNDER)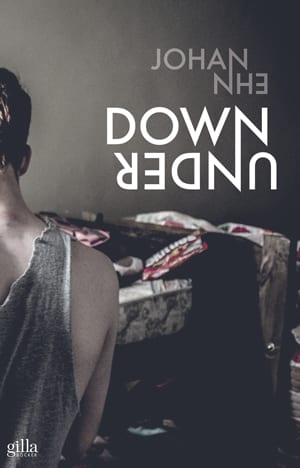 Down Under is an autobiographical novel for adults and young adults. It shares a story about not fitting into this world, about finding yourself on the other side of the world.
1987. Nineteen year old Jim has created a bit of chaos back home in Stockholm, both for himself and for the people close to him. He decides to escape it all an run away as far away as possible – to New Zealand – to start anew and become "a better version of himself". He moves in with his uncle and aunt, gets a job driving a forklift truck at a sandpaper factory and slowly starts to build up an everyday life in his new country. But it's not without complications. He is tormented by memories of the life he's left behind and his unpredictable, conservative uncle runs his house with an iron hand.
One day Jim's aunt picks him up at work offering him a ride home. But she stops outside a hostel and tells him all his belongings are in the trunk of the car. She and her husband have read through his mail and realized that he is "a homosexual". They never want to see him again. Jim is left on the curb with his belongings dumped into plastic bags. This marks the start of a turbulent inner and outer journey lined with self loathing and confusion. But along the way Jim also encounters wonderful people, and finally he has the courage to look back at everything that has been happening – leading up to him finding himself on the other side of the world – down under.
320 pages
RIGHTS
Sweden: Gilla Böcker/Lilla Piratförlaget
REVIEWS
"Johan Ehn never loses touch with the pain in the story. One can predict almost everything that happens but in it's not a negative thing. It is more about recognition in a story that has to be told over and over again; the one about turning your tormentors your back and allowing yourself become who you are."
Göteborgsposten / SWE
"The use of colourful language lends a poetic feel whilst time frame markers and musical references well substantiate and ground the story."
Amelia / SWE
"Down Under is an eye opener now, 2017. True, genuine, imaginative, catchy and full of adventure. To land in yourself. To see yourself. To be honest with yourself."
Prickiga Paula, blog / SWE
"Down Under is very well-written, with beautiful nostalgia from the seventies as well as the eighties, profound and touching. And as said, very, very important."
Bims blog / SWE
"Down Under hurts, creeps under your skin, but is at the same time so beautifully written that it's impossible to stop reading."
Eliläseroch skriver, blog / SWE
"This is an excellent YA novel that gets under your skin. An easy read."
BTJ / SWE
"The book is a real page turner, it's easy to get drawn into Jim's story. What happened in his past, and what will happen next? After reading Down Under I wondering what Johan Ehn will do next? I am hoping it will be another book!"
Katrineholmskuriren / SWE
"What a smash hit! Listed as a YA title, but clearly for adults as well, especially if grown up in the 80's. A lot of recognition and insight into how much has changed with internet and smartphones. Travelling was something else then, clearly. It hurts to read the book. Several times while reading I wish I could travel back in time and jump into the book and do something. The school was in so many ways very difficult for so many, I think and I hope it's better today. More permissive. Though I guess it isn't always… This is not just about physical travel but a mental. A painful one. Read read read !!"
JoS blog / SWE