THE HORSE BOYS (Hästpojkarna)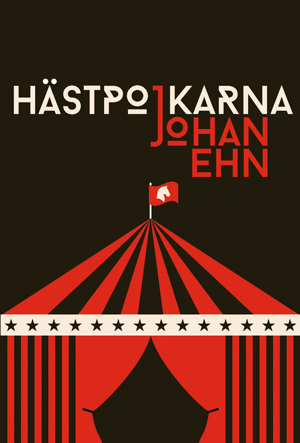 Johan Ehn reads from The horse boys
Nominated to the 2020 Nordic Council Children and Young People's Literary Prize!
Winner of the Nils Holgersson Plaque 2020!
Past and present intertwined in a brutal love story and an unexpected friendship
Sasha and Janek grow up at the orphanage in Czechoslovakia in the middle of the 1920s. Janek is quiet and introvert and Janek is social and outgoing, a fixer who loves his friend and protects him from the cruelties of the world. The boys train acrobatics and perform the most astonishing acts on horseback. When one is treated badly, they escape and join a circus. Together they travel Europe and perform as "The Golden brothers". But their relationship is more than fraternal. In their teens, they discover that they are sexually attracted to each other. Despite that the circus is a cosmos in itself with its own morals and its own values, they keep their love a secret. As the circus visits Berlin, Sasha and Janek gets involved in the open-minded vaudevilles scene at the end of the Weimar Republic era. They feel that they´ve really found their home. But in January 1933, everything ends when the Nazis take power.
Anton is a 19-year-old young man living in Stockholm in present time. He is gay and a horse guy and for the moment he is working in home care. One of the elderly Anton goes to, is Alexander "Sasha" Kovacs who is 98 years old and has settled in his kitchen and refuses to come out. He doesn't speak but instead hits his walking stick hard to the floor when he wants something. There are many old things in the apartment that testify of an exciting life, including a life at the circus among horses and acrobats. Anton wants to know more about the old man and the two begin to develop a wordless language. Slowly Anton starts to unfold the old man's story.
The Horse Boys is a love story that takes place alternately in Stockholm today and in 1930's Berlin, where it follows different generations of young men who like horses.
Rights
Belgium: Pelckmans Uitgevers (Dutch rights)
Finland: Otava
Italy: Fandango
Norway: Mangschou
Sweden: Gilla böcker
REVIEWS
"The novel makes the most impression when it shows the tremendous power of eyewitness accounts when we understand great and dramatic historical events. Soon, the last ones who remember World War II are gone, and young people reading this book have probably never known any of them personally. Then texts like this can build bridges."
Books365.no / NO
"Friendship, love and betrayal are ingredients in this great and ambitious young adult novel, where widespread attitudes in the past expand today's concepts of human dignity and respect."
NRK / NO
"As an old horse girl, something awoke in my heart when I was thrown into the story about Sasha and Janek, two orphans during 1930's Germany, praised for their acrobatics on horseback. You get so close that you can smell the fur and the sawdust, and you remember the act of balance when galloping bareback. […] But this is also a love story about the caregiver Anton and the slightly older Peter. AND it's a story of how Anton meets one of the circus boys, old and mute and with a story now being unraveled. I didn't devour this book; this book devoured me. And all the way through to the endnote's references to historical archives and testimonies, I was completely hooked."
P4 (Swedish Radio) / SWE
"The novel offers rich perspectives and combines breath taking acrobatics in decadent club environments in Paris and Berlin coupled with everyday concern within the contemporary Swedish health care system for the elderly. It´s urgent, engaging and beautiful."
Dagens Nyheter / SWE
"The Horse Boys is an intense read. Comprised of alternate chapters set both in the present time and in the 1920's and 1930's era in central Europe, Johan Ehn creates a grand historical fresco that describes the living conditions for orphanage children, circus artists and homosexuals in Berlin. It also explores what it feels like to function with a neuropsychiatric disorder – both for the bearer of the condition and for the one who follows, loves and protects. It sounds like a lot, and it is, but Ehn handles his material with confidence and subtlety; never suspense without meaning, never emotions without foundation."
Göteborgsposten / SWE
"Ehn manages to weave together the present and the past, and he draws fine portraits of the main characters and the various epochs. There is a nice and easy flow in the language and the transitions between Anton in present time and the period between the wars in Europe are clear. A book that is well suited for discussions. In summary, an exciting, fascinating and gripping story were a circus and a retirement home make perfect background funds."
BTJ / SWE
"Beautiful and moving about love and friendship."
Gotlands Allehanda / SWE
"a well thought out and perfect work of art"
Tusen sidor / SWE
"Beautiful, emotionally bewildering and absorbing about a friendship across generations, affection for horses, love and deep friendship."
Prickiga Paula / SWE
"One of the most powerful books this season."
Villivonkansbooks / SWE
"I am transported back to Sasha and Janek's life in the 1930's. Johan Ehn creates an atmosphere that really breathes the zeitgeist, the spirit of the times, the life at the orphanage, the circus and Berlin at that time. It is fantastic. […] The Horse Boys is simply put, an amazing story. It sparkles and stands out from the books published this fall. Rating: 5 out of 5″
Boktokig / SWE
"Johan Ehn has written a very moving book, which I read from cover to cover in more or less one sitting."
Sarah Babblar / SWE
"I just want to say this book, wow! … If you want to read a book that makes you feel a lot I recommend this one. Because, ouch, now my heart is going to need some time to heal."
Texter Meningar Ord / SWE
"This book took me by storm and I'm not really able to let go of what it did to me emotionally. I finished it an hour ago and I just want to reread it from the start."
Emma Smith blog/ SWE
"The book is fantastic! It has everything that a really great book should have. Exciting characters, a good story, a language that captivates the reader."
Jenny på Wendes / SWE
"The book is really exciting, very moving, incredibly interesting, and not at all predictable. It is also very informative, and I learned a lot from it. I highly recommend this book to everyone. Highest mark from me. Rating: 5 out of 5."
Bimsblogg / SWE