SNOW ANGEL (SNÖÄNGELN)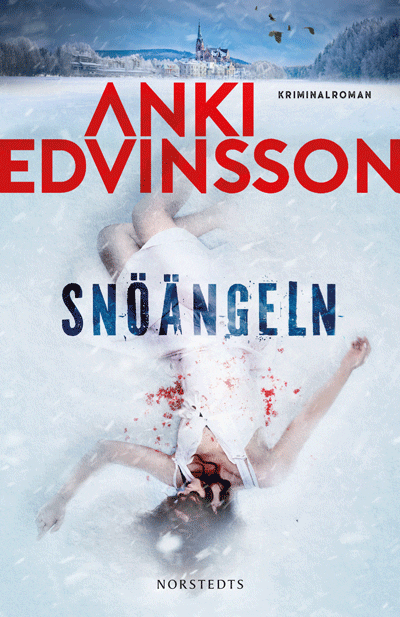 A boy jumps off a bridge. A woman is found murdered in her home. A teenage girl disappears without a trace. Three tragic incidents seemingly without any connections. But Charlotte von Klint and Per Berg at the Umeå police start connecting the pieces. The common denominator is narcotics.
While the winter keeps Umeå in a firm grip and the snow piles are growing, Per and Charlotte are in a race against time. They need to find out who is responsible for the tragedies that continue to strike the town, and they need to find the missing girl at any cost – before it's too late.
Snow Angel is a thrilling, fast-paced, and immersive crime novel. The police officers Charlotte von Klint and Per Berg are in many ways each other's opposites, but together they make an unstoppable team.
Rights
Czech Republic: Euromedia
Denmark: People's
Finland: WSOY
France: Black Lab (Hachette)
Germany: Amazon Books
Lithuania: Balto
Norway: Kagge
Sweden: Norstedts
UK/US: Amazon Books (WER)
Film rights
Scandinavian Content Group
REVIEWS
"Suspense as strong as the cold winter in Norrland. Snow Angel makes the reviewer Inger Melin wake up before the alarm clock to finish reading.
Suicide, bathtub murder and a missing teenager. A common danger lies underneath. […] Anki Edvinsson writes easily and convincingly, she is a journalist, has studied criminology and has a brother and father within the police. She puts her finger on the worst nightmare for anyone who has a teenager: today's drug culture. Edvinsson is great at portraying teenagers' everyday stress, and the partying where one simple pill can be the gateway to helplessness and disaster. And parents' anxiety about not being able to protect their children. When a teenage girl disappears, the reader sits breathless, it is intense and a sinfully thrilling feeling of presence. It also gives an eerie picture of the present where neither wealth nor service weapons protect from the threat of well-organized criminal syndicates."
Smålandsposten / SWE
"Snow Angel is a story that quickly draws me in by dramatic events that makes me both shiver and aches my heart. It's not only the crimes and the plot that holds me in a firm grip, but also how every person is portrayed, Edvinsson makes me feel strongly about the characters introduced to me in her novel. The police duo Charlotte and Per complements each other and their personal stories are skillfully interwoven into the story. When will I have Anki Edvinsson's next novel in my hand???"
Titti Schultz, host of the national radio show P4 Extra, Swedish Radio and book reviewer on Go´Kväll, SVT / SWE
"With Snow Angel, Edvinsson delivers an elegant written and confident detective novel within the Swedish crime novel tradition, where the wintery Umeå environments gives an extra freshness and edge. It will be a pleasure to follow the characters Per Berg and Charlotte von Klint in more books."
BTJ / SWE
"a high-speed and confidently told detective story with a heavy dose of darkness […] It also includes some good and surprising twists"
Västerbotten-Kuriren / SWE
"a well-written page-turner. The pace is high but there is also moments for reflection and depiction of alienation among young people"
Mariestads-Tidningen / SWE
"a thrilling, well-written and pulse-pounding page-turner."
Evasbokylla / SWE
"An exciting police detective novel with a fast pace, but with a serious undertone. In a snow-white and cold Umeå, an action-packed story is told that also deals with mental illness and the vulnerability of young girls. Anki Edvinsson is definitely a crime writer to keep an eye on."
Frokensmillaskanslaforbocker / SWE
"Already on page 2, the author has captured me. And there she keeps me with a strong grip to the very last page! This is a very well written, yet easy to read book that has a constant forward drive. You just want more. And more. And more. It is exciting as we face murder, suicide, and disappearance in one and the same book. Constantly unexpected events make the book glued to your hands, you can not put it away! Short chapters fool the reader and suddenly you have read 100 pages. A modern and contemporary crime novel that delivers authentic vibes. This is what I call a very good novel!"
Deckartips / SWE
"Snow Angel by Anki Edvinsson is an incredibly exciting crime novel with a high tempo which takes place in a snowy Umeå and is excellent for reading in the winter. Prepare for stretch reading and palms sweat! "
Agneta Norrgård, book reviewer in P4 Västernorrland, Swedish Radio / SWE
"A very well written and thrilling crime novel. You are stuck from the first page, you do not want to stop reading. A book you MUST read. "
Nathalie Perssons boktips / SWE
"an exciting and well-written crime novel. I am quickly drawn into the book. It is easy to read with good language and tempo. I like the characters and the important topics that are addressed in parallel with the investigation."
Bokmalen81 / SWE
"Exciting from page one and straight through! The novel has a high pace and touches on several current topics such as mental illness and drugs among young people. The author offers a smooth mix of police work, private life, friendship and seriousness! I immediately became attached to the characters and the environmental descriptions made me feel like I was in a wintry Umeå. I look forward to reading more books by the author and hope to see Charlotte, Per and the others again!"
Bokmysan / SWE
"The thrill is at the top the whole book and the story is well written with interesting characters that make it difficult for me to put the book down, I have to know how it goes! Good pace in the plot, but not too fast pace, it keeps the quality. Unexpected turns and completely impossible to figure out the resolution before the last chapters, just as it should be!"
sandras_bokinspo / SWE
"an exciting book with interesting characters and wonderful environments."
millahs_bookpage / SWE