Yuko (Yuko)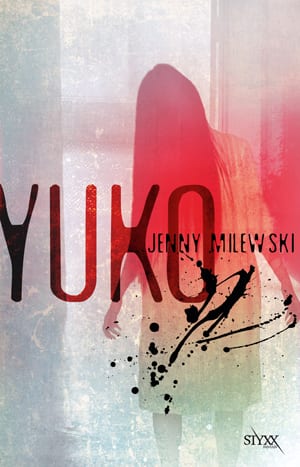 Yuko is as scary as The Shining, just as hair-raising as The Grudge and further proof that the Swedish horror writers are at the forefront.
The Student Hall of Ryds Allé in Linköping will be Malin's first own home. It looks like most residence halls, a small room with bath and basement storage. At first it seems perfect, but she feels that there is something bothering the five students already living there, they act strangely and they are hiding something for her. When she finally finds out about Yuko, the girl who lived in her room and killed herself in the bathtub, she is shaken. But that is nothing compared to what she will be when she sees doors lock themselves, shoes scatter all over the hall and when she hears a very strange voice interfering in all phone calls. It all escalates and one evening she can see and feel how the long black hair, just like Yuko's, is coming out of the tub drain and surrounding her when she is bathing, the TV is changing channels by itself and then Camilla, one of the girls in the corridor, disappears without a trace. The whole situation becomes unmanageable – but what should they do? No one will believe them if they say that Yuko is haunting them. It is as if Yuko is trying to tell them something, they shall have to find out what and help her to leave.
As the students agree to find a way to get rid of Yuko in a good way, it is becoming clearer that Yuko is prepared to use whatever is needed to make life hell for the students in the hall – and there's no limit to how far she's able to go.
246 pages
Rights
Germany: Heine
Sweden: Styxx
REVIEWS
"A Swedish horror novel which is a mix of two horror movie genres, is it even possible? Yes, and Jenny Milewski is much better in scaring us than most others are and do so in her newly released Yuko. Styxx has recently come up with a whole quartet readable fantastic books. Yuko is the very best."
Dagens Nyheter / SWE
"Really good horror novels can make the reader to suddenly look over the shoulder and see something strange or scary in the surrounding. In her second horror novel Yuko Jenny Milewski unites the Swedish everyday life with American college fear and Asian ghosts. Milewski is clearly influenced by Japanese ghost films, and she uses the underlying theme about cultural understanding, and the situation for adopted children in Sweden, even if it is ghosts."
Göteborgsposten / SWE
"Yes, it's a 5! A superb 'Asian vision style' story."
Boktipset / SWE
"I can really recommend Yuko, just do not repeat my mistake. Without really knowing what the book was all about, I put myself comfortable in my bathtub for a long and delightful read. What I learned there was that the bath was the worst place for this book. Especially if you are dark-haired and called Malin …"
Malin, The Book Shed / SWE
"Yuko is a thrilling ghost story where the grips of the 90-century classic college-horror meets Asian ghost tradition."
Bookshelf / SWE
"The book is very visually written. From the very first page you see the things happening right in front of you while you are drawn into the story. You can tell the author likes the genre. It's also interesting that the story takes place in the 1990's, a time when the classic horror films and stories lived a heyday."
Fantastix / SWE
"Rule Number 1 for horror stories: start with establishing a realistic environment and trustworthy characters. That is the way successful writers like Stephen King and John Ajvide Lindqvist lead their readers into a false feeling of safety before they let their nightmares come free. Jenny Milewski too knows exactly what to do. The unraveling is so intelligent and safely told that Milewski makes a strong impression. And just like the depiction of the student life carries the feeling of being self experienced she writes about carrying rotten bodies around in a way that is horrifying, detailed and concrete."
Östgötacorrespondenten / SWE