Congratulations Jenny Jägerfeld!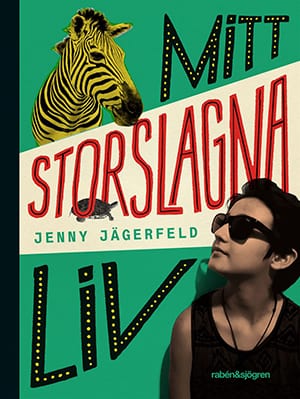 The five nominated titles for the Swedish Radio's Children's Book Award 2020 have just been announced and Jenny Jägerfeld's My Royal Grand Golden Life (Mitt storslagna liv) is one of them!
In My Royal Grand Golden Life we meet 12-year-old Sigge Wilde, who, together with his mother and two younger sisters, have moved from Stockholm to the small town Skärblacka, to his eccentric grandma and her small hotel. Sigge thinks it's marvellous. Now he can reboot himself and become a new person.
Jenny Jägerfeld combines breathtaking humor and deep seriousness in a story about the desire to belong, to follow your dreams, and about a garden gnome on a run-away trip across Europe.
Jägerfeld won the Swedish Radio's Children's Book Award 2018 for her book Comedy Queen.
Awards and nominations for Jenny Jägerfeld
2020 – The Expressen Heffaklumpen Prize
2019 – The Broocman Prize
2019 – Shortlisted for the August Prize
2018 – Shortlisted for The Nils Holgersson Plaque
2018 – Best children's book, Swedish Radio's Children Book Award
2018 – Shortlisted for the August Prize
2017 – The Astrid Lindgren Prize
2014 – LAVA Prize
2010 – August Prize
2010 – Great Reader's Prize
The Children's Radio Book Award (Barnradions bokpris) is a children's radio program where the best book of the year for 9 to 12-year-old readers is awarded by a jury consisting of fifth and sixth grade students. The jurors read the five shortlisted books during summer break, and during the Autumn holiday for school children (in Sweden also referred to as "Reading holiday") they discuss each book during a program series. Read more about the award here.