GREAT JOBAL FROM KROKJALA - Book 2
THE DOOMSDAY CUCKOO
(Stor-Jobal från Krokjala - Ragnagöken)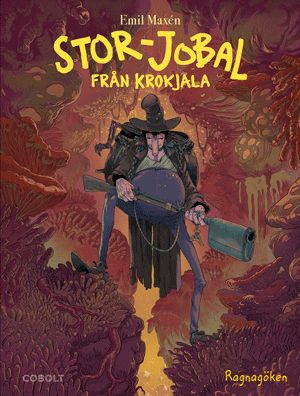 The Dooomsday Cuckoo is the concluding part in the trilogy about the big nosed thief Great Jobal from Krokjala, which began with The Bewitched Bag 2016 and continued in Snatcher in the Rye 2017. The series' creator Emil Maxén received the Albert Engström Youth Prize 2019 for this Norrland story, among other things with the motivation that he "is something as fantastically fun as a genuine big liar who can draw".
Spring has come and all sorts of evil root shoots will soon be in full bloom. The rulers of Inälvsdalen, the forest owners in Smoggholm and their (and God's) warrior, the witch-burner Prost Kulle, have prepared for battle. Against them stand all sorts of skunks, pagans and villans, under the reluctant leadership of Stor-Jobal.
The Armageddon of the outskirts awaits around the corner. Who will go victorious from the battle for Inälvsdalen's future?
64 pages