LEO THE LUREMAKER: FISHING FACTS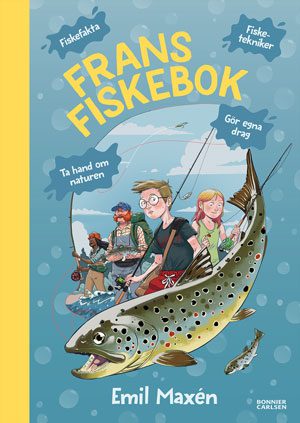 Did you know that some trout transforms and becomes different kinds of fish depending on whether it swims out to sea, to a lake or stays in the stream? Or that the seal is one of the biggest threats to fishing in the Baltic Sea? In "Leo the Luremaker: Fishing facts" you will learn this and much more.
The book is packed with fishing facts and tricks for the novice angler, in both good times and bad. The humorous and generous colour illustrations make this book a must for anyone who wants to try fishing for the first time.
Leo the Luremaker: Fisching Facts is the second book in the series about Leo and his interest in fishing, a must for everyone who wants to try fishing.
Rights
Sweden: Bonnier Carlsen
REVIEWS
"Leo the Luremaker: Fishinng Facts is a non-fiction book for children that also contains a story about Leo and Josefin to be read in parallel. … The story of the friends' adventures in nature is interspersed with facts about different fishing techniques, different types of fish, nature conservation, but also how to make your own lures, flies or why not your own fishing rod? … The illustrations are bright and colourful. The story of the friends who are interested in fishing, moves the plot forward and stops at various more difficult words that are clearly marked in bold and provide an explanation in text or pictures. Leo the Luremaker: Fishing Facts is a welcome addition to the non-fiction children's books. The book has a modern feel and expressive illustrations that reflect our time. A perfect book to read alone or aloud with an adult." Rating: 4/5
BTJ / SWE