GREAT JOBAL FROM KROKJALA - Book 2
SNATCHER IN THE RYE
(Stor-Jobal från Krokjala - Det surnar i säven)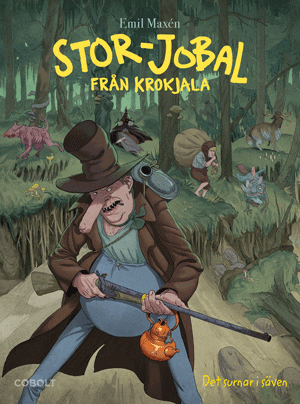 With the second album about Stor-Jobal from Krokjala Emil Maxén has once again created a horror series deeply rooted in middle north's sparsely populated areas and folklore.
Everything started so well. The bewitched bag, which the big-nosed trickster Stor-Jobal stole from the witch Lapp-Tomsa made him for a time Inälvsdalen's savior and great man, Stor-Jobal. But say the joy that lasts. Now happiness has turned and there are many who want to see Stor-Jobal pay for the abuse he committed against people and their livestock. The population of the village has turned against him, Lapp-Tomsa is back and wants both revenge and the sack. I addition, Stor-Jobal's tormentor from the orphanage where he grew up, the witch burner Prost Kulle, has taken up the hunt for the big thief from Krokjala.
59 pages