THE CONFERENCE (KONFERENSEN)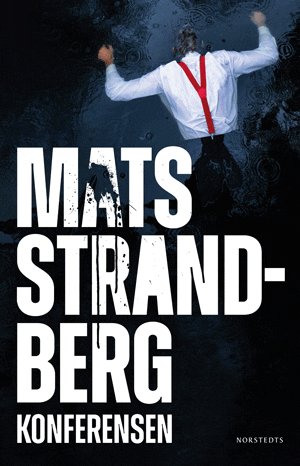 At this conference, a dysfunctional group of colleagues are chased by a ruthless killer. They are forced to work together ­to survive.
A group of municipal employees arrive at a picturesque conference center, situated by the lake Kolarsjön at the foot of a mountain. They are there to discuss a controversial project that has angered many, both in the small town and among the employees themselves.  What they don't know is that someone is watching them from the other side of the lake. Someone who wants revenge. And when darkness starts to fall, they begin to disappear – one by one.
The Conference is a blood soaked thriller about the worst teambuilding exercise you could possibly imagine. It's about the people we have not chosen, but spend most of our waking time with: our colleagues.
Mats Strandberg is a master of bringing charachters to life (and death), as well as portraying a part of Swedish society going through massive upheavals.
334 pages
Rights
Denmark: Modtryk
Finland: Like
Germany: Fischer
Poland: Stara Szkola
Sweden: Norstedts
Film
Original Netflix movie, produced by SF Studio
BLURB:
"Mats Strandberg's greatness lies in the love and care with which he creates the characters that inhabit his dark world – but he is just as good at killing them."
Niklas Natt och Dag (1793 The Wolf and the Watchman)
REVIEWS
"The Conference made me try to shut my eyes while reading. I say that with horror and joy."
Jessica Gedin, Babel, Swedish Television / SWE
"Effective as well as detailed is also Strandberg's narrative, and the book is simply extremely exciting."
Expressen / SWE
"Last night, something wonderful happened that otherwise only happens in clichés, namely that I had to put down a book and breathe in a square because it was freaking TOO exciting."
Jenny Lind, DN / SWE
"After an interesting and fairly accurate presentation of all the group members, the book went took off dizzying pace and the plot became, to say the least, gasping. The author in this book has not worked with the rough brushstrokes, no here it is a story that goes into details and the whole story is very , colorful both of the personalities, the environment and the plot. When the book was over, despite the gasping feeling, I also felt a bit of a loss. I was struck by the fact that the author must have done a solid research of municipal / political activities in general and exploitation activities in particular."
Anita Wallin, Head of exploitation in city of Lund / SWE
"The Conference is horror literature at its best. The horror becomes a way of bringing life to history, and portray the existential questions …"
VLT /SWE
"The Conference is a lovely adrenaline rush – but just like all drugs, it disappears quickly. What remains are the people. I suddenly discover that I am thinking of Lina, Torbjörn and the others while I'm making dinner several days after I have finished listening. Thinking that they have got something that should be bestowed on all fictional characters – a writer who really cares about them. All the way to death."
Jönköpingsposten / SWE
"Strandberg fully masters the horror thriller set-up. It will be a bloody and exciting book, where you have to read on to the last page to see how it goes. Not quite as one thinks, should be mentioned. I'm never going to a conference again."
Upsala Nya Tidning / SWE
"The last hundred pages are like reading at 150 miles per hour."
Folkbladet Västerbotten /SWE
"Mats Strandberg lovingly builds up the personalities of his characters, establishing a reality where the horror surely becomes horrific when it strikes."
Dagens Nyheter / SWE
"Sweden's Stephen King has written another frightening and "unfortunately" realistic horror thriller."
Barometern / SWE
"After a few terrifying hours with the group at Lake Kolarsjön, one has lost all interest in conferences and scheduled leg stretches – mostly due to possible lunatics in the forest and a skilled author's portrayal of everybodys vulnerability."
Göteborgs-Posten / SWE
"So, no thank you, I would definitely not bear to see a film adaptation of this book. Sometimes it is unbearable to read. And that's exactly how it should be."
Sydsvenskan / SWE
"… a display of human shortcomings where the author's compassion is clearly present, and the depiction of the sparsely populated municipality and geography is spot on."
Katrineholms-Kuriren / SWE
"A totally hair raising action thriller so rugged that I do not hesitate to name Mats Strandberg one of our most skilled narrators. In chapter after chapter The Conference givs me of shortness of breath, It's like Agatha Christie's And Then They Were None meets your worst nightmare. I still haven't pulled myself together. Several times I had to put down the book, deepen my breath and thank God for this year of conference-free work. In short: Strandberg has surpassed himself!"
Amelia / SWE