THE HOME (HEMMET)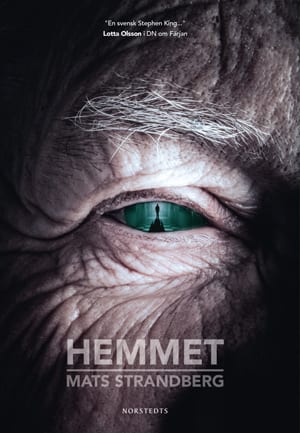 For the first time in 20 years, Joel has returned to the small town where he grew up. He has come back to help his mother Monika move into a home for the elderly. Monika is suffering from dementia, and Joel has become a parent to his own mother.
His childhood friend Nina works at the home. She practically grew up in Joel's family, but they haven't spoken since he moved. The painful thing that happened in their teens has haunted them both ever since.
When Monika is moved in, her health quickly deteriorates. She has violent and terrifying outbursts. She seems to know things she couldn't possibly know. It's almost as if she isn't being herself anymore. But of course, that is true of most residents at the home.
Only Nina and Joel know her so well that they can see the signs. Only by working together they can look for clues in the past, and try to find answers to the unexplainable.
The Home is an eerie story about love, friendship and the greatest fear of all; losing control of ourselves.
387 pages
Rights
Czech Republic: Host
Denmark: Modtryk
Finland: Like
Germany: Fischer Tor
Greece: Kedros
Italy: Giunti
Russia: Ripol
Sweden: Norstedts
UK: Jo Fletcher Books
Film rights
[sic] film, Sweden
Blurb
"Good characters, clever story, plenty of scares. A great read. Admit yourself to The Home right now."
John Ajvide Lindqvist, author
REVIEWS
"This elegant Swedish slow-burner is imbued with horror interwoven with regret, guilt, memory and shame"
Metro / UK
"What can make a horror story stand out from the rest of the pack is when It hits home in a personal way, when an unnatural twist could be a very close reality.That's the case in this Sweden-set story which clearly has as Its central theme the way society treats Its elderly these days. This one will upset you while making you fill your pants."
Weekend Sport Review / UK
"An atmospheric and disturbing story that is suffused with a whispering dread that unfolds in a grounded and believable way and is all the more terrifying for it."
FinalGirlBlog / UK
"A strange and satisfyingly creepy novel which unravelled in the most unique of settings. This story dug right beneath my skin and remained there long after I turned the final page."
TheBookBabeReviews / UK
"a spectacular tale […] The Home is an intense and claustrophobic horror. The author excels at humanity and horror, a creeping sense of unease will have you addicted and wanting more."
The Coy Caterpillar Reads, blog / UK
"A well written thriller and pageturner."
Göteborgs-Posten / SWE
"Mats Strandberg has a talent that is hard to beat for displaying the current state of Sweden, and transporting everyday fears into classic horror literature."
Dagens Nyheter / SWE
"Sophisticated scares."
Gomorron Sverige / SWE
"To set a horror novel in a home for the demented is a brilliant idea, and Strandberg digs a lot of gold from it."
Aftonbladet / SWE
"Strandberg is incredibly skilled at blending sturdy realism with the incredible."
Skånska dagbladet / SWE
"Clear evidence that Sweden has a new king of horror."
City / SWE
"Strandberg is a master of filling the Swedish everyday life with horror."
Femina (5 out of 5) / SWE
"Mats Strandberg has been called Sweden's Stephen King since his debut with Blood Cruise. With the horror thriller The Home he proves that he deserves the comparison. 5 out of 5."
Birgitte / DE
"His highly atmospherical horror thriller Das Heim that takes its readers into a home for the elderly where eery events unfold, makes once again your blood run cold."
freundin.de / DE
"Once more, Strandberg creates convincing characters … The home serves as the perfect thriller background."
Luzerner Zeitung / DE
"A suspenseful story … that impresses with an distinctive atmosphere and brilliantly described characters."
phantastiknews.de / DE
"He's good this Swede. Stephen King would have been proud. 5 stars!"
Literatursiden / DK
"A perfect framed psychological thriller. 5 stars."
Bogdifusen / DK
"A well-written Nordic horror that takes place in a very realistic environment. Therefor you don't see the horrifying details before they stare you right in the face. 5 0f 5."
Anne's reading list / DK
"Very cinematic and with characters that have very fine psychological depth. Mats Strandberg scares his readers in a most refined way. This is a brilliant story. 4 out of 5."
SVT / SWE
"Paranormal working class drama. With microscopic means, The Home gives me goosebumps along my arms all the way up my shoulders, and shows that there ar no need for armors of aliens, zombies or blood-sucking foxes. A different voice is just enought."
Expressen / SWE
"The Home is a complex story and much more than just a splattering entertainment novel. It is driven, sharp and with a fantastic language. Strandberg also proves to be a real humorist as he plays with the genre and the whole arsenal of classical horror symbols that he reverses, over and over. Like the knife in the wound."
Upsala Nya Tidning / SWE
"It doesn't take many minutes of reading until you realize that Mats Strandberg's horror novel is brilliant. Because, what can be more nasty than to slowly dissolve in the fog of confusion? Best book right now."
Amelia / SWE
"Mats Strandberg has written an irresistible horror novel, a book one reads in frenzy to reach the end and the story to unravel. "
Kommunalarbetare / SWE
"The Home, a horror novel not relying on splatter effects, but rather seeking a more dimmed horror. In addition to the chills, he also succeeds in writing a touching depiction on how it is to become old and helpless. John Ajvide Lindqvist has to hold on to the crown tightly, his position as Sweden's horror king is threatened."
MittMedia / SWE
"Strandberg's ability to capture everyday life and environments and to create personalities wins over that creeping, sticky supernatural."
Sveriges Radio / SWE
"Strandberg is unusual good to establish a very credible everyday realism and then smuggle supernatural elements into the equation. The Home  is undoubtedly the best horror the undersigned has read this year."
Kulturkapellet / DK
"The home is a real horror treat which all fans of the genre will enjoy. It does what horror is put into the world to do: It prepares us for the worst imaginable. And it does it in an entertaining way."
PlanetPulp / DK
"I was totally gripped by The Home, which is effective on more than one level. Strandberg not only tells a creepy story but also locks the readers into an environment that most of us rarely come close to.  The 'storage' of the elderly in a nursing home is described strongly by Strandberg. At the same time, the novel has a good and well-written horror story, and I read The Home from beginning to end in one swipe."
Gyseren.dk / DK